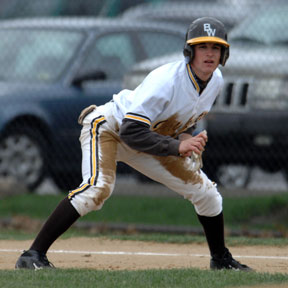 For any type of athlete, adversity can make or break the competitive spirit. This holds true for BW's student-athletes and coaches who look to the most disciplined and strongwilled leaders to propel their respective teams into the proverbial promised land of winning.
Enter senior baseball player Brendan Toughey. The self-proclaimed "sparkplug" of the Yellow Jackets has been a big part of the team's steady rise on the field in recent years. The men set a school record with 27 wins last season and currently hold a 10-2 record.
"We've become more disciplined. We have a lot of mentally tough guys and we're dealing with adversity better. The coaches are giving us a lot of tools to be successful and things are really coming together," Toughey said.
With a strong mix of freshmen and upperclassmen, Toughey believes the Yellow Jackets' best days are ahead of them.
Toughey entered BW as a freshman in 2009 and quickly saw action on the field, playing in 27 games and earning a varsity letter.
A native of East Amherst, New York, Toughey claims he attended BW because of the comfort of the small-school feel and the chance to play the game he loves dearly. "My dad and mom wanted me to go away a little bit to gain some independence. They miss me, but they still come to every one of my games," Toughey said.
In his sophomore campaign, Toughey started in the outfield and earned the "Yellow Jacket Award" for his performance on and off the field. The following season, current head baseball coach Brian Harrison took over the helms of the baseball program and instantly noticed Brendan.
"No question he carried himself differently than everyone else. He's so coachable and he's the type of kid you want your program to embody," Harrison said.
As far as setting the proper example for his teammates, Toughey believes in the old-adage— lead by example. "I don't do too much vocally. I just try to lead the guys and do the right thing on and off the field. [Underclassmen] are adjusting to college life just like I did," Toughey said.
He went on to add that being open and honest with the underclassmen, along with taking the time to answer their questions are big difference makers.
By his junior year, Toughey had quickly become a team leader, while continuing to excel in the classroom. Toughey ended the year with a .377 batting average, 10 doubles, 19 RBIs, and a team-high and school single-season record 53 runs scored. Brendan also led the team in walks drawn with 21 and was a perfect 23-for-23 in stolen bases. For that, Toughey earned All-OAC Academic Honors as well as a spot on the All-OAC Second Team roster.
Toughey attributes his success in both areas to his coaches and teammates. "I love competing against myself and competing against my teammates. I stuck with the process. Coach Harrison has great plans for us and we're always improving every day. It was tough to go through, but it taught me how to win," Toughey said.
Toughey's coach shares the same admiration for his players. "As he goes we go. He competes and always finds a way to get it done for us. The work ethic is the reason he excels; he's like a sponge and is just so coachable," Harrison said.
Both Toughey and Coach Harrison agree that the program has continued to recruit strong players, while upperclassmen and coaches continue to mold them into the system. The team next faces the University of Pittsburgh-Bradford on Saturday, March 23. As Brendan looks on to his future past BW, he wants to keep baseball a part of his career. Toughey said he would love to join a professional baseball team's administrative staff.
Story continues below advertisement