The Berea Library Offers More than Meets the Eye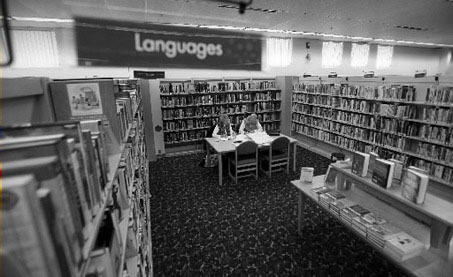 Nicole Salapa, Feature Editor
December 12, 2014
While Ritter library is home to many academic books and information on thousands of topics, sometimes students are looking for a light read, a magazine, or even DVDs and CDs. This is where the Berea branch of the Cuyahoga County Public Library (CCPL) fills the gap.
The Berea branch of the CCPL, located at 7 Berea Commons, near Coe Lake, has a wealth of useful resources that arguably remained  underutilized by much of the public, but perhaps especially by students.
Pamela DeFino, the Branch Manager of the Library, believes that the library can be a great resource for Baldwin Wallace University students.
"We have a greater emphasis on fiction than Ritter does, so for the readers amongst your population, we are able to provide that," she said.
Not only does the library provide access to thousands of books, but digital books and digital magazines. Also available are streaming movies and videos along with virtually any type of media that students and other library-goers may want.
In addition to the wide variety of items that can be borrowed, the library also has some surprising resources that can help students.
For those students participating in  National Novel Writing Month this November, the library is the place to go.
According to DeFino, the library now allows its members free access to self-publishing software. Accepted works become part of the library system and other members can read and download the published writing.
Writing published using this system then has the possibility of being picked up by literary journals and published in print.  For aspiring writers, this software creates unique opportunities  for possible publication.
"We are the first library system in Ohio to make the self-publishing software available to our members for free," DeFino said.
This software can even be accessed from the library's website; no trip to the branch needed.
For those interested in scholarship opportunities, the library has a Foundation Database, a special database of foundations that give to charities and individuals. This can be an invaluable tool when searching for funding possibilities.
The library also has a large geneology database for those interested in finding out more about their family tree and looking to trace their heritage. This service is also free of charge.
Students who are interested in getting some volunteer hours for their resume can also look to the library.
"We have a group called Friends of the Berea Library. They always need help around the time of the book sale, but the first Monday of every month they do sorting," DeFino said.
This sorting enables the library to raise funds for more books, resources and software for its members through four quarterly book sales a year. Anyone is welcome to come, get free snacks and help sort books for the sales.
Not many people are aware that the library also processes passports. For those interested in studying abroad or traveling for breaks, a quick walk to the Berea library can be easier than heading to a post office or other passport processing center.
The library is a meeting space for a number of unusual clubs as well. From shipbuilding to writing and video games to poetry, the library offers a chance to connect with people of all ages while doing a unique activity.
Finally, the library has access to a national job database. While Baldwin Wallace's Career Network provides a job dartabase as well, the library can be another useful tool for career searches.
But even with all these resources, getting people to read is the library's primary goal, and it is an important mission for DeFino.
"The ability to look at a written piece or a screen and pull out relevant information is crucial to any profession, any job," said DeFino.
Baldwin Wallace students can obtain a library card free of charge with a valid ID.
Items can be taken out for two weeks at a time with a maximum of fifty items. With a CCPL library card, items can also be ordered from other libraries if the Berea branch does not have what a person is looking for.
For more information on the resources available through Berea's library, visit the Cuyahoga County Public Library's  website at www.cuyahogalibrary.com.