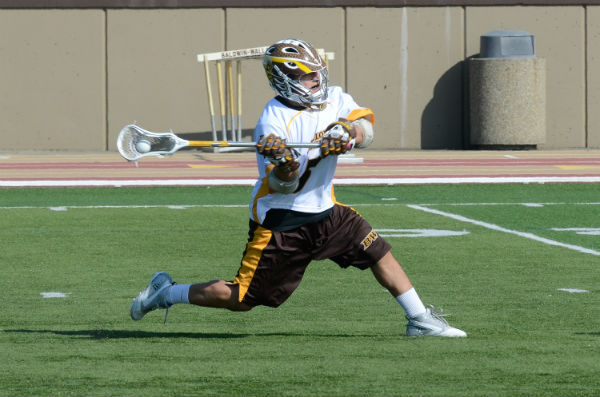 Men's Lacrosse
The Baldwin Wallace University men's lacrosse team wrapped up its first season Saturday, April 27.
Senior midfielder Andy Caballero and freshmen attack Andrew Madden and Vinny Carson each recorded hat tricks to lead the Baldwin Wallace University men's lacrosse team to a 20-11 win against Bethany (W.Va.) College at Bison Stadium in the final game of its inaugural season.
BW's 20 goals were the most since a 21-11 win against Houghton (N.Y.) College on March 8.
The win improved BW to 6-5 and secured a winning record for the Yellow Jackets in its first season in program history. Bethany fell to 4-11.
Caballero and Madden each scored four goals, and Carson had three. Caballero also notched his seventh assist of the season and Carson registered his team-high 21st.
The hat trick was the third for Caballero, playing in his final game as a collegian, and team-high fourth for Madden, who ends the season having scored a goal in three straight games.
Next season, head coach Jason Tarnow expects to return 20 of 22 players from this year's roster, including eight players who made at least eight starts this season, and 75.5 percent of the team's scoring.
Women's Lacrosse
The BW women's lacrosse team ended its inaugural season with a 19-2 loss to the University of Mount Union at Tressel Field at The George Finnie Stadium.
Head coach Kim Russell honored seniors Sam Husted and Chandra Sudtelgte prior to the game for their contributions to the program in its first season.
The Yellow Jackets ended the 2013 campaign 4-6 overall. Mount Union improved to 12-1. Sophomore midfielder Victoria Budzyn scored both BW goals, her team leading 22nd and 23rd of the season.
Budzyn gave BW its only lead of the game at the 26:22 mark of the first half with her first goal of the contest. Her second score came at 10:16 of the opening period and ended a 13-0 Mount Union run.
Baseball
Senior left fielder Brendan Toughey broke the school career runs scored mark and the Baldwin Wallace University baseball team split a non-conference doubleheader at Pitt – Greensburg (Pa.) on Sunday, April 28, 2013 at Bobcat Park.
BW dropped the first game, 5-4, before coming back to take the second game, 11-4, in a rain-shortened five-inning game.
The split improved BW to 24-11 overall.
Toughey scored one run in the first game to the tie the school career record before breaking the mark on a solo home run in the second game.
Toughey, who now has 144 career runs, surpassed former All- Ohio Athletic Conference and Academic All-American center fielder Cody Kidd, who scored 143 runs from 2006-2009.
Also contributing was freshman second baseman Mark Zimmerman.
He hit his first career home run in a 2-for-3 effort, and freshman designated hitter Hunter Handel went 1-for-2 with two runs batted-in.
Sophomore All-OAC first baseman Kyle Chontos reached base three times via walk and scored one run.
Three Yellow Jackets recorded multiple hits in the second game and BW matched a season high by stealing seven bases.
Junior Joe Hiller went 3-for-3 with two doubles, a stolen base, three RBI and two runs scored. Senior Nolan Neuschaefer went 2-for-3 with three RBI and one run.
Senior right-hander William Pantages made his first career start and earned the win to improve to 2-0 for his career. He allowed all four Bobcat runs on two hits and struck out three batters in three innings of work. BW returns to the diamond Saturday, May 4 at Ohio Athletic Conference rival Otterbein University at 1 p.m.
A year ago, the Yellow Jackets set a school record with a 27-13 overall record.
Softball
The Yellow Jacket softball team split an Ohio Athletic Conference doubleheader with rival Marietta College on Saturday, April 27, 2013 on Seniors' Day at the Cuyahoga County Fairgrounds Field in Berea.
BW won the first game, 6-5, and Marietta won the nightcap, 2-1.
The Yellow Jackets won the first game, 6-5, when junior two-time All-Ohio Athletic Conference third baseman Lauren Feciuch blasted a walkoff home run with one out in the bottom of the seventh inning.
With its split, BW ends its season at 20-18 overall and 5-11 in the OAC.
The Yellow Jackets have won 20 or more games for the fourth time in the last five years.
Junior Tabitha Murray started her 22nd game this season and pitched all seven innings, allowed seven hits, two runs, struck out six and issued two bases on balls as she fell to 17-10 overall.
This spring, Murray had an outstanding junior season.
At the plate, she batted a single season school-record .475 (58-for-122). Her 58 base hits were one shy of a single-season school record.
She also scored 25 runs, had 13 doubles, nine home runs and 33 runs batted-in.
Her 33 runs scored ranks 10th, the 13 doubles are tied for third, her nine homers are tied for fifth and her 33 RBI are ninth.
On the mound, Murray finished 17-10 overall with a 2.54 earned run average in 22 starts with 19 complete games and 173 strikeouts in 171 innings pitched.
Her 17 victories rank tied for second in a season, her 19 complete games are tied for third and her 171 innings pitched and 173 strikeouts ranks second.
Story continues below advertisement