Peter Amendola, a senior at Baldwin Wallace University majoring in Economics with a minor in Legal Studies, is the most experienced Lead Resident Assistant (LRA) on the Residence Life staff.
This year, Amendola was the only returning LRA. He has lived in Heritage Hall all three years of his employment in residence life.
Amendola became a resident assistant after transferring to BW from the University of Rhode Island. He was interested in the position after watching both of his older brothers become RAs.
The Lead Resident Assistant position requires an RA to take on substantially more responsibility within their residence hall. LRAs are expected to mentor new and returning RAs, log hours every week in the Residence Life Office, work closely with their Hall Director and participate in various student life oriented committees.
Amendola decided he wanted to apply for an LRA position when his Hall Director at the time recommended him. "My Hall Director told me I had the attitude and confidence to deal with the difficult situations that I would have to face in the position," Amendola said.
Working closely with the central residence life staff, Bob Beyer, Dan Cline, Todd Heft, and Robin Gagnow, is one of Amendola's favorite parts of being an LRA. He singled out Beyer as one of his favorite mentors.
"Bob is a very approachable and nice guy. He always has good advice and is helpful whenever possible," Amendola said.
Amendola also credits current Heritage Hall Director Amber Karel as a mentor saying, "Amber came in as a new hall director during my second semester with residence life. We were both pretty new to our jobs and ended up learning a lot together."
According to Amendola, the best part of being an LRA is mentoring new staff.
"I enjoy showing the new staff how to do the job and acting as a mentor not only to the staff I work with, but also to other staffs."
One of Amendola's favorite memories happened during Fall 2012 RA training when he made slime with a few other LRAs.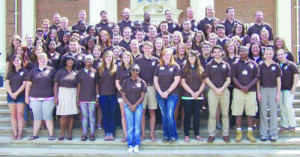 "We made it in the middle of the night so we wouldn't get caught. We ended up getting caught the next day when we failed to clean up the mess," Amendola said. "Central Staff let us use it later, so a bunch of us went behind North Hall and threw it at each other- fulfilling a childhood dream for us all to be covered in slime."
After graduating in May, Amendola plans to get a Masters Degree in Applied Statistics at the University of South Carolina in Columbia through their online program. He will also be searching for a job position as a financial analyst.
Although he does not plan to pursue a career in higher education, Amendola believes that the skills he learned with BW Residence Life will be helpful in his future personal and professional life.
"I learned a lot about working within a team and dealing with people from different backgrounds and cultures, which are skills that are helpful in any profession.
Story continues below advertisement