Student Spotlight: MBA Students Compete in ACG Cup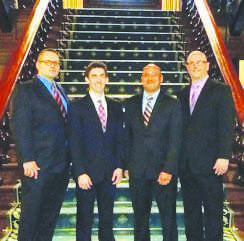 Lydia Maendel, Contributing Writer
March 3, 2015
The Baldwin Wallace team of Executive MBA students Pete Woodward, Bradley Ruff, Evan Lyons and Noel Juguilon placed third out of twelve teams in the regional Association for Corporate Growth (ACG) Investment Cup January 16th.
The ACG Investment Cup is an MBA-level case study competition hosted nationally ACG chapters, designed to give MBA students real world experience with mergers and acquisitions, investment banking and private equity. All the teams work on the same case studies over one week to prepare financial valuations and strategic recommendations to present to a panel of experienced M&A professionals.
Returning members, Woodward and Ruff, were joined by new members Lyons and Juguilon.  Director of the MBA Program, Dale Kramer, selected the BW team members based on overall academic performance in MBA classes.
On top of work, school, and outside commitments, juggling the schedule of each of the team's members can be challenging, but time spent working through the case as a team is integral to the overall success of the group. "If everyone on the team isn't on the same page or isn't able to keep up with the pace, it can be very counterproductive," Woodward said.
"The case study was focused on a Mergers & Acquisition scenario, where we had to perform company valuations for three separate companies with multiple different nuances," Lyons said.
However, as Ruff says, the case study is not all about the finance and accounting: "For example, in this case, there was a family dynamic that we had to address and threats from investors that were not happy with the returns they were getting. You're applying behavioral science, finance, accounting and marketing to come up with solutions."
The aspect Juguilon most appreciated about the competition was presenting in front of executives and board members.  "All of that preparation really comes down to a few moments and how well you do in those few moments," Juguilon said.
Woodward recommends committed MBA students to participate; two spots on the team will be opening for the next year's competition, as two of the current members graduate.
"It's a rough week to get through, but it's also a very rewarding one. For someone with aspirations in the [mergers and acquisitions] field, the competition provides excellent networking opportunities and access to professionals within the field as well," said Woodward.