Street Voices Speakers Educate on Homelessness
Larry Davis and Simona Lynch, members of the Northeast Ohio Coalition for the Homeless (NEOCH), came to Baldwin Wallace University November 13 to educate students about homelessness through NEOCH's "Street Voices" presentation.
Davis, a previously homeless war veteran, has been working as a volunteer coordinator for NEOCH for the past eight years to advocate for the homeless.
"None of us in here are guaranteed anything," Davis said. "Homelessness doesn't discriminate."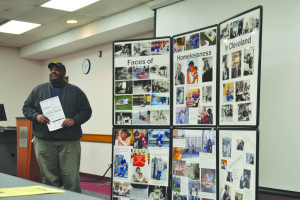 Davis debunked several myths about homelessness.  Not all homeless people live on the street, and many hold jobs but simply do not have stable housing.  There are over 3.5 million homeless people currently in the United States, starting at ages as young as ten and 12.
Lynch, a one-year NEOCH volunteer, tells students that not all homelessness happens as a side effect of drug abuse; losing jobs and houses can also result in poverty.
Coming from a typical middle-class background, Lynch grew up in a suburban neighborhood.  She earned a degree in business administration and traveled extensively, eventually becoming a medical assistant instructor.
Lynch soon settled down to marry and became a mother.  In June of 2012, she discovered that her husband was selling her personal possessions, including her car, to pay for drugs.  After being threatened by her husband's dealer, Lynch and her daughter fled to a local homeless shelter, eventually staying with her brother in order to look for work.  Currently, Lynch has still not found stable housing or employment.
"Never in my life would I imagine I would find myself homeless," Lynch said.  Her unstable position has not only affected her self-esteem and image, but it has also had negative impacts on her daughter's life as well.
"Take a look at yourself in the mirror and don't say 'it can't be me,'" Davis warns.
At the close of the presentation, Davis discussed his personal motives for his extensive volunteering with NEOCH.
"I don't do it to get credit. I do it to see the smile on a child's face," he said. "Don't be selfish. Give it away and more will come to you."
Davis and Lynch also stressed the importance of volunteering. "It's not about keeping them happy. It's about giving them hope," Davis said. To help the cause, NEOCH is holding the Winter Blanket Drive 2013-14, which will be accepting donations of necessary items such as toiletries, warm clothing, bus tickets, and blankets.
For more information, visit www.neoch.org or call (216) 432-0540 to learn more about what can be done to help the ailing homeless population.
Leave a Comment
Please consider a financial contribution to the student journalists of Baldwin Wallace University. Your contribution will allow us to purchase equipment, cover our annual website hosting costs, and other expenses so that we can best serve the BW and Berea, OH communities. The Exponent does not operate for profit – all donations will be put directly back into the paper so that we can continue to produce the highest quality journalism possible.
- Justin McMullen, Executive Editor