At the beginning of the Fall 2023 semester, Baldwin Wallace University sent out an email to students which said that stickers with nationalist messaging were found on campus. The stickers reveal a deeper issue: the growing number of white supremacist movements popping up around the United States.   
The stickers, found around the University Market building on campus, included a link to a website of an unofficial political party organization, whose platform includes various hateful initiatives, such as cutting down Jewish representation in the workforce, hateful rhetoric toward members of different sexual orientations, along with creating immigration caps in the United States to keep a majority of our population to having "European" ancestry. 
David Hoffman, the senior associate director of the Anti-Defamation League, a group founded to combat antisemitism and hatred toward all marginalized groups, said that in the last five years, incidents of white supremacist propaganda have increased by nearly five times from 1,214 incidents in 2018 to 6,751 incidents in 2022. 
"It's definitely a part of the bigger picture," Hoffman said. "We have seen a significant increase in white supremacist propaganda and extremism all over the place."  
Story continues below advertisement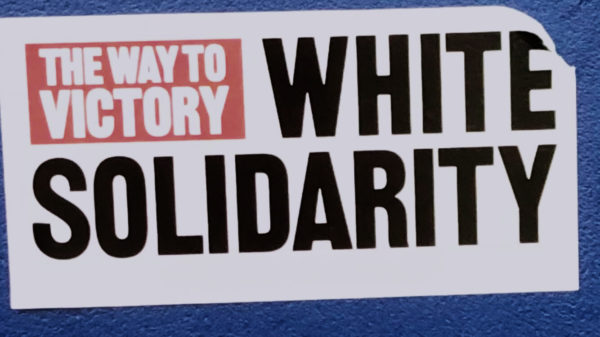 While it is unclear how many members take part in these fascist organizations, incidents such as placing stickers with hateful messaging do in fact serve the group's purpose by hurting individuals that they see as unwelcome. 
"While we can't know the exact 'success,' one thing that we do know is that like other incidents of hate and bias, acts of vandalism that target a community, the impact of these actions is felt widely in the community beyond just those who they may be targeting when recruiting," Hoffman said. 
Hoffman said that one reason for the growing influence of white supremacy is because of social media influence and media coverage, which can bring people together to feel as though they were not alone in their hateful beliefs.  
"Someone who may have just been an isolated thinker in their home now feels that they can be a part of something bigger and sees the impact of it by these groups having a physical presence," Hoffman said. 
Matthew Ward, an assistant professor of political science who teaches courses on fascist ideology, said that social media and instances such as the one seen at BW reveal the desire of these groups to move the "Overton Window," a term coined to explain what is acceptable in mainstream politics.  
"The goal is to mainstream [it] before they concentrate on things like policy and politics," Ward said. "So the idea is to change culture through these messaging operations."  
Hoffman also said that the groups are now more likely to collaborate than in the past, which Hoffman said reveals that hate group members have now become more attentive to what they wish for.  
"They're becoming increasingly anxious about perceived 'threats' to white people," Hoffman said. "They are willing to work together to send a message because they realized that the mechanisms that we have for good governance aren't achieving their goals."  
Ward said that these tactics toward appealing to white "threats" is an effective narrative pushed by these white supremacist groups. 
"There's this victimhood narrative that's really appealing to people because it appeals to emotions and senses of being lost or left behind by the system," Ward said.   
According to the ADL, college campuses are frequent places for attack, specifically from the same hate group that plagued BW, with nine incidents occurring since the start of 2023. Specifically, colleges become areas of attraction for hateful messaging since they can sense college student's curiosity.  
"A lot of these groups are trying to capitalize on University students who are coming to campus eager to learn new ideas and be exposed to different perspectives," Hoffman said. "Anything that can be done to help recognize that hate groups may be entering in a way that's not overt, is really important."  
To combat this rise in white supremacist messaging, Hoffman recommends that students spread love messaging and always report instances.  
"We think the best way to counter hate speech is through love speech as 'corny' as it may sound," Hoffman said. 
Ward said that it is important for people to educate themselves on these matters and said that helpful resources are available through the ADL. 
"They [college students] should familiarize themselves with what to look for because knowing ahead of time what to look for in the purpose of rhetoric is one of the most effective ways to inoculate against radicalization," Ward said.  
Timothy Washington, Safety and Security Supervisor at BW, took part in helping take down the stickers. He said that while the perpetrator of the sticker placement has not yet been found, students should always report these incidents to Safety and Security so that they are able to track the people down. 
"If your gut is telling you something isn't right, report it," Washington said. 
The message on this sticker is a hateful message that hurts members of our Berea and Baldwin Wallace Community. If you see this messaging around campus again, please report this to BW's Center for Inclusion and the Safety and Security Department immediately. Report any incidences here: https://fs22.formsite.com/bwtest1/form120/