PNC, BW Unveil New Stinger Visa Debit Card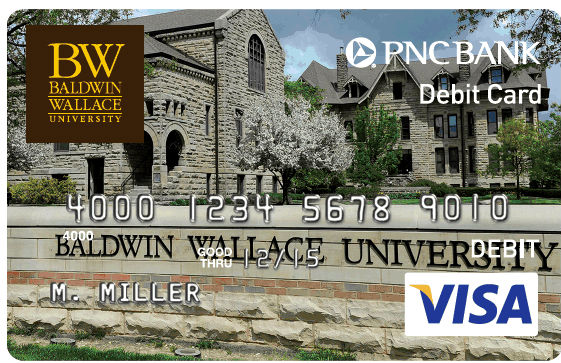 Baldwin Wallace University implements a new way for BW students to spend their Jacket Express funds this fall.  Starting this October, BW resident students will be able to transfer $150 from their Jacket Express accounts to a new BW Stinger Debit Card through a partnership with PNC Bank and BW.
In order to receive the BW Stinger Card, students must open a checking account through PNC bank.
Students can open their account with PNC at any time before the Stinger card is available, which is expected to be October 17.
However, Mary Gaspar, director of Campus ID, noted that students who decide to open a PNC checking account beforehand must express to PNC that they would like to have the BW Stinger Card instead of the standard PNC Virtual Wallet Card to utilize the $150 from the Jacket Express account.
The ID Office makes it clear that only residential students "who received the full Jacket Express board plan" and who have "$150 left in their account at the time of transfer" are eligible for the preloaded BW Stinger Card.
In addition, the Stinger Card will not replace the Jacket Express Card as the primary form of student ID.
Gaspar said the changes came from student suggestions to President Helmer to let students use their Jacket Express money off-campus. President Helmer liked the idea and implemented it with the ID Office and PNC Bank.
Although the Stinger card only transfers $150 from the Jacket Express account, this money can be used at any off-campus business that accepts Visa.
"It was the President's council that voted on the amount on the card," Gaspar said.
Sophomore Emily Pewe said, "I'm afraid people would view the $150 as free money."
Freshman Alan Jankowski does not think the program is helpful. "If somebody wanted to go out to eat, they could just get money from home or from the ATM if they already have a checking account," Jankowski said.
Although freshman Allison Matia already has a checking account with another bank, Matia does find advantages in this program.
"I do like the idea," Matia said, "because the Stinger card would let me use my Jacket Express money for eating out or buying groceries."
Students interested can visit the representatives from PNC Bank on campus every Wednesday, now through October 16 from 9 a.m. – 1 p.m. in the Strosacker Hall lobby.
Local PNC branches students may visit to open an account include 343 West Bagley Road or the Giant Eagle location at 50 West Bridge Street.
Leave a Comment
Please consider a financial contribution to the student journalists of Baldwin Wallace University. Your contribution will allow us to purchase equipment, cover our annual website hosting costs, and other expenses so that we can best serve the BW and Berea, OH communities. The Exponent does not operate for profit – all donations will be put directly back into the paper so that we can continue to produce the highest quality journalism possible.
- Justin McMullen, Executive Editor