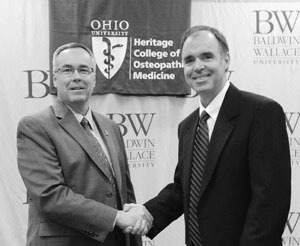 Baldwin Wallace University has recently entered into a partnership with Ohio University's Heritage College  of Osteopathic Medicine.
The partnership is designed to promote a new interest in the Medical Sciences at BW and encourage Pre-Med students to continue their education in primary care as a graduate student. The hope of the partnership is to counter a shortage of physicians in the primary care field.
"We are delighted to forge this alliance with the Heritage College, pleased to offer an exciting new pathway to a superior medical education for Baldwin Wallace graduates, and committed to developing programs that help solve our region's problems," BW President Robert Helmer said in a press release announcing the partnership.
The program, titled "The Primary Healthcare Advancement Program," will give five pre-medical students from BW early-assurance admission to the Heritage College during their sophomore years on a conditional basis. Students accepted into the program would go on to attend Heritage College in the Cleveland Clinic's South Pointe Hospital, which is planned to open in Warrensville Heights by 2015. Students interested in pre-med are able to major in their area of choice, provided they fulfill the required coursework for the pre-med program.
Heritage College sees 50 percent of its graduates practicing in primary care and 60 percent of those graduates remain to practice in Ohio.
Dr. Kenneth Johnson, Executive Dean of Heritage College, expressed his positive feelings for the new program.
"Some of northeast Ohio's best and brightest students will be able to pursue their medical education in a place they call home, with the greater likelihood that many of them will stay to practice there," Johnson said in the press release.
The program aims to blend the traditional liberal arts approach to education with its public health major and a medical science curriculum at an undergraduate level to create a unique experience.
"No other institution has a program like this which educates students about the significance and importance of primary care medicine at the undergraduate level," Dr. Joseph Yavornitzky, Director of the Primary Healthcare Advancement Program and a professor at BW, said in a previous interview. The Primary Healthcare Advancement Program will go into effect at the start of the Fall 2014 semester.
Story continues below advertisement