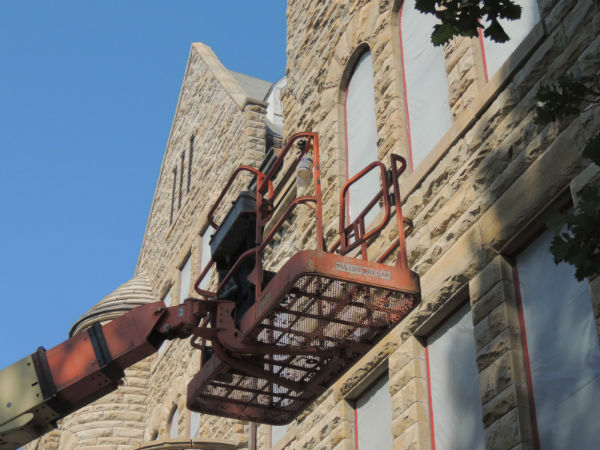 Baldwin Wallace University's construction projects continue as BW's Marting Hall undergoes historical renovations. Marting Hall houses the majority of the Humanities classes including English, history, religion, philosophy and art history. The current restoration is the final step of a larger, four-part project.
Starting in 2010, one side of Marting's exterior sandstone has been cleaned and tuck pointed each year, with construction ending this semester. In addition to this project, the Bell Tower also saw some work this past summer. The Bell Tower had a metal clad material over its wood framing that was deteriorating and needed replaced.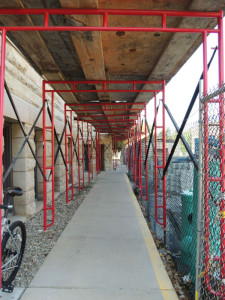 Before these two construction endeavors, the last time Marting Hall was renovated was in 1989-90.
"The building was totally gutted out to the bare stone walls," said Don  Dubena, Assistant Director of Buildings and Grounds. "This was done because there was a lot of asbestos in the interior plaster ceiling, walls, and flooring. The interior was reconstructed to what you see now in the building. From 1990 to present we have done very little in the interior of the building other than some painting and carpet replacements."
For many students the construction has became an inconvenience when in class.
"The construction is very distracting. It is so hard to focus in my history classes when all I hear is the constant pounding from outside," junior Stephanie Nickols said.
Freshman Lue Williams said that the pathway in the back is too narrow for all of the students to use when going to class.
"I actually have class in Dietsch Hall, but I use the narrow pathway in the back of Marting. It is too small back there for all the students that use it. It always looks like a traffic jam back there most days," Williams said.
Other students have simply gotten used to the noise and crowded walk.
"The construction goes pretty unnoticed in my classes unless there is a loud bang. The constant buzzing coming from outside doesn't bother me anymore," freshman Mary Theresa Schafer said.
One question many students have about the work being done is why it could not have been in the summer.
"It makes more sense to do it over the summer. That way it would have been done for the school year," Schafer said.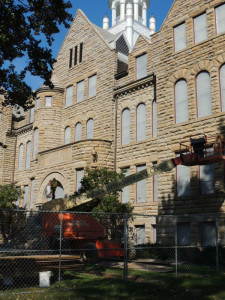 According to Lisa Starek, Administrative Assistant of the Buildings and Grounds Department, "The University's capital budget was not approved until the middle of the summer. We could not begin any work until this was approved."
The disturbance from the construction should end soon, and the BW community will be looking at a newly restored building. The construction on Marting Hall is expecting to be complete by this October.
Story continues below advertisement