Baldwin Wallace University hosted Kyle Maynard, renowned congenital amputee athlete and motivational speaker, October 23 to a packed house in Gamble Auditorium. The lecture was the second of the 2013-2014 Enduring Questions Lecture Series formed in conjunction with LAS-200.
The lecture was well attended by BW students, many of which are currently taking LAS-200 and College 101, as well as faculty and members of the Berea community.
Maynard's lecture, titled "No Excuses," was full of personal anecdotes about his experiences with overcoming obstacles in his life.
Maynard was born a congenital amputee, meaning he was born with arms that end at the elbows and legs that end near the knees. Despite his handicap, Maynard wrestled at the national level, set world records in weightlifting, became the first man to crawl on his own to the summit of Mt. Kilimanjaro and continues to overcome daily obstacles.
"Every single person on this planet has a disability," Maynard said. "We need to be self-aware and have a good perception of that which is holding us back."
Maynard stressed that disabilities can not only be overcome, but they can also empower.
"There are no good excuses…every one of us is guilty of making them. Are we going to let those disabilities limit us or are we going to let them empower us?" Maynard said.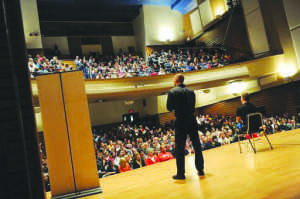 Maynard lives alone in a three-story townhouse in Atlanta, GA with no modifications or extra help from anyone. He owns his own fitness center called No Excuses CrossFit where he is a certified instructor in CrossFit–a specialized strength and conditioning program.
One of his main projects is working with wounded soldiers on adapting a fitness regimen to meet the needs of their handicaps and capitalize on their strengths.
One of Maynard's more touching anecdotes was about his quest to reach the top of Mt. Kilimanjaro and honor a mother's wish by spreading the ashes of her son, a soldier killed in combat, on the summit.
Maynard said that crawling up the mountain was the hardest thing he has ever had to face, and he kept repeating a mantra he learned from a Navy Seal: "Not dead. Can't quit." Maynard was successful in his mission.
In his closing comments, Maynard posed his own enduring question for the audience: "Why are we here on this planet?"
When asked by a student during the Q&A session if he ever wishes that he had been born with hands and feet, Maynard said that he may have said "yes" as a child and even into his twenties, but he was at peace now.
"There are times we wish, we dream, we pray that things can be different," Maynard said. "Without my disability I wouldn't have had the opportunity to be here today and share my struggle with others."
The lecture was followed by a book signing session in the Gamble lobby where Maynard signed his book "No Excuses."
Story continues below advertisement