Jacket Nation: Team Updates from Around Campus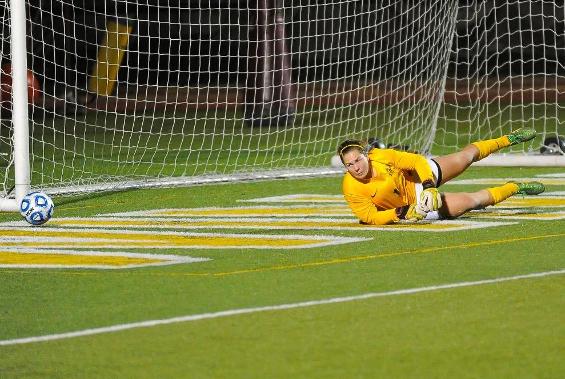 Tony Blankenship, Jacket Sports Editor
September 25, 2014
Women's Cross Country
The Baldwin Wallace University women's cross country team finished seventh at the Otterbein University Invitational. The Yellow Jacket women were seventh of ten teams.
Freshman Maeve Christie (Lakewood) led the women's squad as she placed 20th in a time of 25:17.1 in the 6K race. Junior Molly Rehor (Fairview Park/Fairview) was next as she took 27th in a time of 25:56.5.  Junior Abby Snow (Massillon/Jackson) took 44th in a time of 27:17.10.  Freshmen Baille D'Amore (McDonald) and Jacquelyn Brown (Tallmadge) rounded out the top five finishers.   D'Amore was 49th in a time of 27:28.7 and Brown was 67th in 28:58.8.
Men's Cross Country
The Baldwin Wallace University men's cross country teams finished sixth of seven teams at the Otterbein University Invitational. Sophomore Brian Brennan (Akron/Walsh Jesuit) paced the men's team for the second straight event as he finished in a season-best ninth place in the 8k run as he crossed the finish line in a time of 27:13.3.  Freshman Brady Jeffers (South Amherst/Firelands) was a close second behind Brennan as he finished 20th in a time of 27.56.6. Freshmen Evan Milovich (Westlake) finished 41st in a time of 29:02.7, Justin Swords (Brunswick) was 53rd in 29:43.4 and Dylan Tanner (Mentor) placed 55th in a season-best time of 29:46.6
Women's Soccer
The Baldwin Wallace University women's soccer team dropped a heartbreaker to cross-town rival Case Western Reserve University in a non-conference game by a final score of 1-0 on DiSanto Field.
With the loss, the Yellow Jackets (1-5-1) snapped a two-game winning streak against the Spartans (4-1-1), who remained undefeated in non-conference home games with a mark of 9-0-2.  BW was the last team to beat Case Western Reserve in a non-conference home game back on September 19, 2012 when the Yellow Jackets posted a 4-2 victory.
BW and the Spartans played to a scoreless draw in the first half.  Case Western Reserve controlled the offensive play as it recorded 12 shots to three just for the Yellow Jackets.   Junior netminder Emily Tallmadge (Fairview, Pa.) was tested most of the half and came up with six saves, including two diving saves and one that she knocked over the crossbar.
Despite the loss, Tallmadge finished the match with 10 saves, including one from point blank range and another diving save in the second half.
Men's Soccer
The Baldwin Wallace University men's soccer team dropped its home-opener to No.7-ranked Ohio Wesleyan University, 3-1, on Saturday evening on Tressel Field at The George Finnie Stadium.
Despite its 1-0 deficit, BW (1-7 overall) played tough defense in the first half. The Yellow Jackets allowed just four OWU shots on goal, and freshman goalkeeper Ryan Asbury (Cincinnati/ Turpin) saved three.
In the second half, OWU scored its second goal at the 52:47 mark when Schaefer scored again to give the Battling Bishops a 2-0 advantage. Junior forward Matt Cohen was credited on the assist. OWU would increase its lead to 3-0 with an unassisted goal by senior midfielder Colton Bloecher at the 57:30 mark.
The Yellow Jackets scored their lone goal at the 58:24 mark to cut the deficit to 3-1 when junior midfielder Zach Smith (Parma/ Normandy) scored his second goal of the season from 25 yards out.