Jacket Nation: Team updates from around campus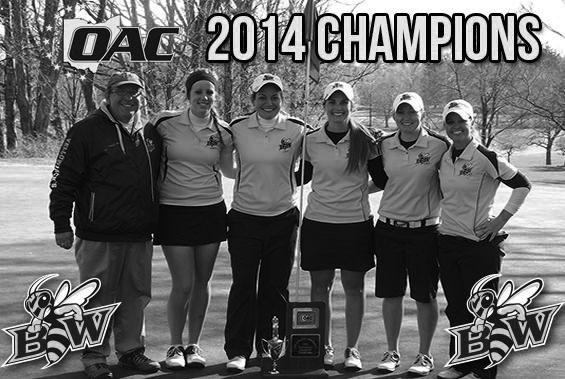 Scott Taylor, Jacket Sports Editor
May 2, 2014
Men's Golf
The Baldwin Wallace University men's golf team won its first-ever Ohio Athletic Conference Tournament title by one stroke and junior Adam Sanders earned medalist honors by winning on the third hole of a playoff with a birdie on Sunday, April 27. The event was hosted by Muskingum University at the River Greens Golf Club.  The Yellow Jackets now advance to the 2014 NCAA Division III National Tournament at the Grandover Resort in Greensboro, N.C. from May 13-16.
In addition, BW Head Coach Tom Heil was named as the OAC Men's Golf Coach of the Year.
BW carded a first day round of 303 strokes, a second round of 305, a third round of 306 and had 315 strokes today for a 1,229-stroke total to place first of eight schools to best Otterbein University by one stroke. The tourney was a three-day and 72-hole event on the par-72 and 6,668 yard River Greens layout.
Sanders carded rounds of 74, 75, 75 and 77 for a 301-stroke total and beat John Carroll University's Casey Vancil on the third hole of the playoff to earn medalist honors. Also, freshman Scott Schroeder placed fourth individually with rounds of 75, 77, 76 and 77 for a 305-stroke total. The top 10 finishers at the OAC Tournament earn All-OAC accolades.
In addition, freshman Matt Kershner was 18th and had rounds of 78, 77, 79 and 82 for a 316-stroke total, senior Stephen Spalding was 22nd with rounds of 76, 76, 87 and 79 for a 318-stroke total, and senior Augie Ward was 31st and carded rounds of 84, 80, 76 and 85 for a 325-stroke total. Spalding has twice previously earned All-OAC honors.
Women's Golf
The Baldwin Wallace University women's golf team captured its fifth all-time Ohio Athletic Conference Tournament title and qualified for its fifth NCAA Division III National Tournament by winning the OAC title on April 27 at the Columbia Hills Country Club.  BW was the host school. The title was BW's third in the last four years.
The Yellow Jackets carded rounds of 378 strokes yesterday and a tournament-low 357 strokes today for a 735-stroke total on the par-72 and 6,019-yard Columbia Hills C.C. layout. BW bested second place Otterbein University by 21 strokes. The victory qualifies BW for the 2014 NCAA Division III National Tournament from May 13-16 at the Mission Inn Resort in Howie-in-the-Hills, Florida.
BW was led by senior four-time All-OAC player Emilee Woolf who carded rounds of 89 and 87 for a 176-stroke total to place second individually.  Otterbein's Marie McGinnis was the medalist with a 173-stroke total.
In addition to Woolf, senior Miranda Cunningham earned her fourth All-OAC award as she fired rounds of 94 and a tourney-low-tying 86 today for a 180-stroke total to place fourth. Sophomore Laura Vidmar was sixth individually with rounds of 91 and 90 for an 181-stroke total to be All-OAC for the first time.
Also, senior four-time All-OAC standout Rebecca Jones was 18th with rounds of 105 and 94 for a 199-stroke total, and junior Jenna Andreas was tied for 30th and had rounds of a career-low 104 and a 109 for a 213-sroke total.
Women's Lacrosse
The Baldwin Wallace University women's lacrosse team defeated Ohio Athletic Conference rival Capital University, 13-12, April 26 at Bernlohr Stadium in its final regular game of 2014.
With its win, BW is now 13-3 overall and 3-1 in the OAC. With its loss, Capital is 10-4 overall and 1-3 in the OAC.
The Yellow Jackets were led by freshman midfielder Sierra Thomas, junior attack Cara Wood, senior attack Colleen Bodkin. Thomas tied her career-high with six goals and also had two assists. Wood scored three goals with one assist, and Bodkin added two goals.
In goal, senior Bridget Walsh played 17:28 minutes, allowed 3 goals and made 3 saves.