Jacket Nation: Team Updates From Around Campus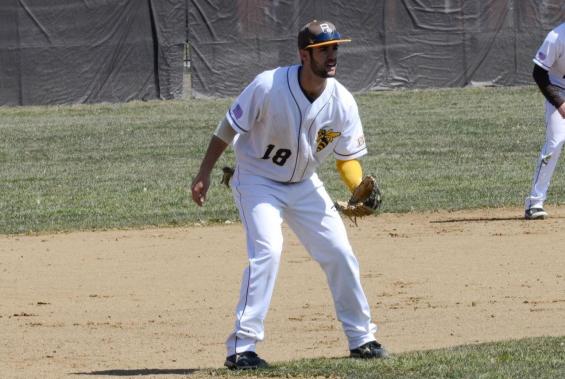 Scott Taylor, Jacket Sports Editor
April 17, 2014
Women's Lacrosse
On Sunday, March 30, senior attack Colleen Bodkin scored a career-high five goals and added one assist as the Baldwin Wallace University women's lacrosse team won its school-record seven straight game with an 18-2 defeat of Olivet (Mich.) College at the Cutler Athletic Complex.
During the seven game-winning streak, the Yellow Jackets (8-2) have outscored their opponents 121-48; including 57-10 over the last three games.
In addition to Bodkin for BW, freshman midfielder Maddie Russell talllied two goals and four assists and freshman midfielder Sierra Thomas had two goals and three assists.  Junior midfielder Cara Wood recorded two goals ande two assists and junior attack Nikki Bowman recorded two goals. Five other Yellow Jackets contributed a goal each.
Olivet (0-6) got a goal each from Taylor Guarnaccia and Mackenzie Inman.
BW scored 12 unanswered goals in the first half and held the Comets to just three shots on-goal.   The Yellow Jackets led by Bodkin with a hat-trick and Maddie Russell and Dawson with two goals each in the opening half.
After a goal by Kocher to open the second half, Olivet scored its first goal of the game when Guarnaccia tallied the unassisted score at the 21:50 mark.  BW scored five more goals in the second half with the last coming by Bowman with 1:23 remaining.   The Comets got their only other score when Inman scored unassisted at 16:20.
In goal, senior Bridget Walsh played 30 minutes in the first half and did not allow a goal for the second straight game with three saves as she improved to 8-2 overall.   Freshman Gabrielle Nondorf played 30 minutes in the second half and allowed two goals with three saves.
Baseball
The Baldwin Wallace University baseball team fell at host and NCAA Division I the University of Dayton on Wednesday, March 26, 12-9, on Woerner Field at Time Warner Cable Stadium. BW Head Coach Brian Harrison was an assistant coach at UD before coming to Berea.
The Flyers gained an early two-run advantage after the first inning, 2-0, while both teams scored a pair of runs in the third inning to make the score 4-2.  BW tallied a run in the top of the fourth inning to cut the Dayton lead in half, 4-3, but the Flyers scored one run in the sixth and three runs in the seventh to gain the 8-3 advantage.
The Yellow Jackets came back in the top half of the eighth inning by scoring six runs of their own to take the 9-8 lead.  Then in the bottom half of the eighth inning, Dayton senior Ryan Berry hit a grand slam with one out to secure the victory for the Flyers, 12-9.
At the plate, senior All-Ohio Athletic Conference and Academic All-OAC third baseman Brad Gugliotta led the Yellow Jacket offense as he batted 3-for-4 with two runs scored, two runs batted in and two walks.
Sophomore first-baseman Hunter Handel went 3-for-5 with a scored run and three runs batted in.
Also for BW, junior outfielders Alex Green and Zach Ferster each had two hits.
On the mound, junior right-hander Brian Taricska received his second start of the season and pitched two and one-thirds innings with four earned runs on three hits, one strikeout and three walks.
In relief, senior left-handed pitcher Cory Durbin made his sixth appearance on the season with three and two-thirds innings of work and allowed only one earned run on four hits, three strikeouts and one walk.
Durbin was followed on the mound by senior right-hander Cory Waite who allowed two earned runs and one hit in one-third of an inning.
After Waite, senior Dylan Fodor and sophomore Matt Wittels combined to pitch two-thirds of an inning to finish off the bottom of the sixth inning and gave up only one unearned run, a hit and a walk.
In as the closer, sophomore right-hander Brandon Cichocki pitched the eighth inning for the Yellow Jackets and gave up four earned runs on four hits and three strikeouts to take the loss.