Jacket Nation: Team Updates From Around Campus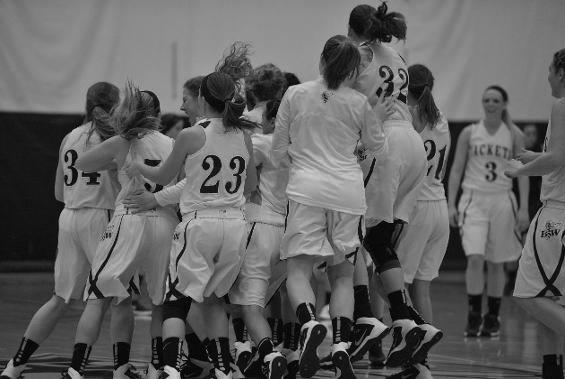 Scott Taylor, Jacket Sports Editor
March 21, 2014
Women's Basketball
Over spring break, BW played in its 12th NCAA Division III women's basketball tournament in the 24 years that Cheri Harrer (488-178) has coached the team. The Yellow Jackets advanced to the national tourney as an at-large selection and regular season co-champions of the OAC.
Junior All-Ohio Athletic Conference forward Shari Mangas scored a game-high 15 points and the Baldwin Wallace University women's basketball team defeated Lebanon Valley (Pa.) College, 66-48, in the first round of the 2014 NCAA Division III Women's Basketball Mid-Atlantic Regional Tournament inside the Charles Wolf Gymnasium at host York (Pa.) College.
In addition to Mangas, senior three-time All-OAC forward Jessica Lairson had 12 points and a team-high-tying eight rebounds.  Lebanon Valley ends its season at 21-7 and was led by sophomore guard Payton Carper and junior guard Kiely Chaklos with 12 points each.
Early in the contest, the game was tied 2-2 and after four lead changes the Yellow Jackets took control on a Lairson layup at 13:31 for an 8-5 lead. The lead grew to eight at 13-5 at 11:31 when Mangas canned the first of three first half three-pointers.
Lebanon Valley outscored BW 8-2 to close the gap to 15-13 at 8:03, but BW ran off nine straight points for a 24-13 advantage at 6:59 when Mangas canned two triples in an 8-0 run that was part of the spurt.  The Dutchmen scored three straight to cut the deficit to 24-17 at 3:44, but again the Yellow Jackets cammed back-to-back treys by freshman guard Sydney Clark and sophomore guard Allyson Helleis at 3:34 and 2:19, respectively, to lead 24-13.
BW also led at halftime, 32-19.
In the second half, Lebanon Valley cut the lead to 10 points at 34-24 at 17:59, but BW got a jumper from freshman point guard Mackenzie Colombo and a trey from sophomore guard Alissa Munro a 39-24 lead at 16:01.  The lead became 17 on two separate occasions with the last at 53-36 at 8:37 when Munro grabbed an offensive rebound and scored.
The Dutchmen cut the lead to 54-42 at 6:20, but a layup by sophomore guard Janya Feaster at 6:01 pushed it to 56-42 and junior All-Ohio Athletic Conference and Academic All-OAC forward Audrey Smolik put it out of reach with a three-pointer at 4:41.
Lairson made it a 20-point game at 3:27 with two foul shots. The largest lead of the game was 21 points at 1:58 when Colombo canned a pair of free throws.
In their next game, Mangas again scored a team-high 15 points and BW beat host York (Pa.) College, 67-52.
With its win, the Yellow Jackets advanced to the Sectional Round. The last time BW visited the "Sweet 16" was in 2006 when it won the Great Lakes Regional at BW and then beat Williams (Mass.) College in the "Sweet 16" and then lost to host Scranton (Pa.)
In addition to Mangas for BW, sophomore guard Alissa Munro came off the bench to can three three-pointers and score 13 points and Smolik had 12 points.  Sophomore backup center Sam Hamar grabbed a team-high nine rebounds. York was led by senior forward Brittany Hicks with a game-high 30 points, including 25 of her team's 34 in the first half, and a game-high 10 rebounds for her 42nd career double-double.
BW scored first and took a 2-0 lead at 19:06 when Lexi Rohrbach drove to the basket and scored. The Spartans then utilized eight points by Hicks in a 10-3 run to take a 10-5 lead at 16:39 when she scored, was fouled and completed the three-point play.  BW scored five straight points on a three-pointer by Munro at 16:27 and a rebound basket by Hamar at 14:57 to tie it at 10-10.
BW regained the lead at 11-10 when Rohrbach made one of two foul shots at 12:43. The Jackets kept the run going and built a 19-14 lead at 10:53 when Munro canned her second trey of the game.  After BW gained its largest lead of the half at 23-17 at 5:34 following two Mangas free throws, York or more precisely Hicks, scored seven straight points to gain a 24-23 lead at 3:39 when she scored, was fouled and completed the three-point play.It was tied at 26-26 and 31-31 before York grabbed a 34-31 advantage when senior forward Kristen Haley, who had 13 points, made a layup 33 seconds before intermission. A Smolik charity toss for BW with six seconds left cut the Spartan lead to 34-32 at halftime.
BW scored the first seven points of the second half to take a 39-34 lead at 16:28 when sophomore guard Janaya Feater drove to the basket and made a short jumper in traffic.  Following two York foul shots at 16:15, the lead grew to a game-high six when Munro canned her third triple on a fast break at 15:28.
The lead was six at 48-42 at 10:12 when Munro made two foul shots and at 8:44 when freshman guard Sydney Clark (Parma/ Lake Ridge Academy) canned a trey.  The lead grew to eight on two occasions with the last at 57-49 at 5:00 when Mangas hit  a jumper in the lane.
After a York foul shot, the lead was nine at 59-50 when Munro canned a jumper at 4:38 and was 11 twice with the last at 63-52 when Mangas nailed another jumper at 3:13.
In the "sweet sixteen", Smolik scored a team-high 10 points, but the BW women's basketball team lost at host Fairleigh Dickinson (N.J.) University-Florham, 66-42, inside the Ferguson Recreation Center. BW's 42 points was its lowest output of the season by 13 points.
With its loss, BW ends its season at 22-7 overall. FDU-Florham is 30-0 overall and only one of two unbeatens left in Division III.
FDU-Florham had five players in double figures and outscored BW 44-18 in the second half,  led by junior guard Kyra Dayon with 15 points and 10 rebounds. BW made just 14 of 59 shots for 23.7 percent, including just 4-of-22 three-pointers, and committed 16 turnovers.
After FDU-Florham scored the first basket, BW scored three straight points to take a 3-2 lead at 17:36 when Munro made two foul shots.  The Devils outscored the Yellow Jackets 13-3 to take a 15-6 lead at 13:53 when junior guard Kara Dayon made a three-pointer and forced a BW timeout.
The Devil lead grew to 11 points at 20-9 at 11:17 before the Yellow Jackets went on a 15-2 run, to take a 24-22 lead with 31 seconds left before the intermission when sophomore guard Janaya Feaster made a layup. The run included holding FDU-Florham to one field goal in the last 11:17.  Another key was when Devil sophomore forward Shalette Brown, who scored nine points in the first 5:39 picked up her second foul with 12 minutes to go and had to go to the bench for the remainder of the half.
BW's lead grew to six points early in the second half when Lairson made a jump shot at 17:37 to make it 29-23. FDU-Florham came back with five straight points to close the deficit to 29-28 at 16:07 when Kara Dyson made a jumper.  The Devil run continued and became a 19-4 advantage as FDU-Florham built a nine-point advantage at 42-33 with 11:42 left.
The Devils rebuilt their 11-point lead to 44-33 at 10:32 when junior guard Leigh-Ann Lively made two foul shots to end a personal run of seven straight points.  A lively triple at 9:55 pushed the lead to a game-high 14 at 47-33.  The game got out of reach when Kyra Dayon canned a trey at 4:20 to push the lead to 56-38.
Men's Golf
On Thursday, March 13, the Baldwin Wallace University men's golf team finished first of five teams and won the annual Spring Break Invitational, hosted by McDaniel (Pa.) College, at the Barefoot G.C.