Jacket Nation: Team Updates Around Campus
Tony Blankenship, Jacket Sports Editor
April 26, 2015
Baseball
The 16th-ranked (April 6 D3baseball.com Division III national poll) Baldwin Wallace University baseball team swept Ohio Athletic Conference foe Wilmington College in an OAC doubleheader at Tewksbury-Delaney Field.  The Yellow Jackets (16-5, 4-4 OAC) won the first game, 12-2, and captured the nightcap, 7-5.
In the first game, BW scored two runs in the top of the first inning, one in the fourth, one in the fifth and six more in the sixth to build a 10-0 lead. Wilmington (3-19, 0-8 OAC) scored both of its runs in the bottom of the sixth inning to close its deficit to 10-2. The Yellow Jackets scored their final two runs in the seventh.
In the second game, BW scored two runs in the third and one in each the fifth and sixth and two in the seventh to build a 6-0 lead. After Wilmington scored once in the bottom of the seventh and four more in the eighth to make it close at 6-5. BW added its final run in the top of the ninth to earn a sweep.
  Women's Golf
Three Baldwin Wallace University women's golfers competed as individuals at the annual Ohio Wesleyan University Laura Bump Invitational Tournament at the Mill Creek Golf Club.
Leading the way was junior All-Ohio Athletic Conference and Academic All-OAC student-athlete Laura Vidmar (Willoughby/ South) as she shot rounds of 89 and 92 for 181 total strokes on the par-72 and approximately 5,800-yard Mill Creek G.C. layout layout.
In addition, freshman Karly Alexander (Hinckley/ Medina Highland) carded rounds of 96 and 102 for a 198-stroke total, and junior Nikki Gannon (North Ridgeville) had rounds of 115 and 109 for 224 total strokes.
Women's Tennis
The Baldwin Wallace University women's tennis team split a pair of Ohio Athletic Conference dual matches at the world-renown Linder Family Tennis Center.
The Yellow Jackets (5-12, 4-2) lost the fiirst match of the day to Ohio Northern University (13-3, 4-0) by a score of 9-0 and then shut out Muskingum University (1-6, 0-4 OAC) by a score of 9-0.
In its match versus Muskingum, BW won all three doubles matches to build a 3-0 lead and won all six singles matches to clinch the victory.
Softball
The Baldwin Wallace University softball team split a non-conference doubleheader against Hiram College.
The Terriers (6-16) won the first game, 7-1, and the Yellow Jackets (10-16) came back to earn a shutout in the nightcap, 12-0.
In the opener, Hiram scored one run in the bottom of the first inning, one more in the third, four in the fifth and another in the sixth to build a 7-0 advantage. BW scored its lone run in the seventh inning.
In the nightcap, BW pounded out 16 base hits and built a 12-0 lead through three innings en route to its 10th win this season.
Women's Lacrosse
Freshman defender/midfielder Kayla Miller (Hudson) scored a career-high three goals and tallied an assist for a career-best four points but it was not enough as the Baldwin Wallace University women's lacrosse team dropped an 18-8 Ohio Athletic Conference game to OAC defending champion University of Mount Union on Tressel Field inside The George Finnie Stadium.
In addition to Miller for BW (4-4, 1-1 OAC) junior attack Emma Harding (Akron/Revere) had two goals while senior attack Victoria Budzyn (East Amherst, N.Y.), sophomore All-OAC midfielder Maddie Russell (Lakewood/Rocky River) and freshman attack Caitlin Wheeler (River Forest, Ill./Oak Park-River Forest) each added a goal.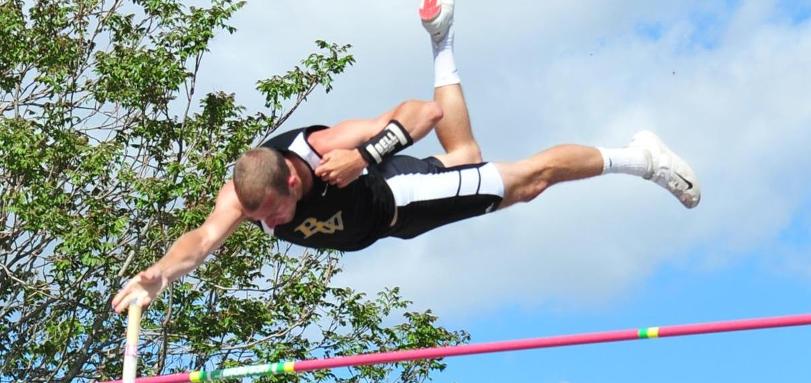 Men's Lacrosse
The Baldwin Wallace University men's lacrosse team defeated  non-conference foe Franciscan University, 31-1, on Tressel Field at The George Finnie Stadium. The victory extended BW's start to an all-time best 9-0 overall record. This is only the third season for varsity lacrosse at BW.
The Yellow Jackets were led by junior attack Vinny Carson (Cleveland/ Benedictine), freshman  attack Brock Riemenschneider (Rocky River), and sophomore attack Luke Happel (Pittsburgh, Pa./ Hampton) who each scored four goals.  In goal for the Yellow Jackets, sophomore goalie Mike Dizonno (Buffalo Grove, Ill./ Adlai E. Stevenson) faced  three total shots, including one shot-on-goal, allowed zero goals and made one save to improve to 9-0 in his career.
Track and Field
The Baldwin Wallace University men's outdoor track and field team placed seventh at the All-Ohio Division III Championships at host Ohio Wesleyan University on the George Gautier Track at Selby Stadium
The Yellow Jacket men scored 38 points and ranked seventh of 19 schools. The top three men and women in each event and relay team earn All-Ohio honors.
Junior Tyler Burdorff (Painesville/ Riverside led the men as he was second in the hammer throw with a throw of 179 feet and 9inches.  He was also fifth in the discus at 139'4". His throw in the hammer ranks 13th in Division III this season.  In addition, sophomore Troy Robinson (Akron/ Garfield) was third in the 200 meters in 21.98 seconds and senior decathlete Brandon Eddy (Cuyahoga Heights) was fifth in the pole vault at 14'6.25".
Football
Steve Opgenorth begins his first season on the Baldwin Wallace University coaching staff in 2015-2016 as its quarterbacks coach and recruiting coordinator.
"Steve is a great addition to the BW family," said Yellow Jacket Head Coach John Snell. "He brings great experience and knowledge to the staff and I am excited to have him here.
Steve's understanding of Division III recruiting and his knowledge of offensive football will be a big plus to our program," continued Snell.  "He has already made his presence felt by jumping head first into the recruiting process and getting prospects on campus in a very short period of time."
The 2005 Winona State University graduate who began master's degree work at Carroll  College in 2007 comes to BW after serving as the head coach at St. Norbert College in the fall of 2014 where he led his team to a 6-4 record.