Jacket Nation: Team Updates Around Campus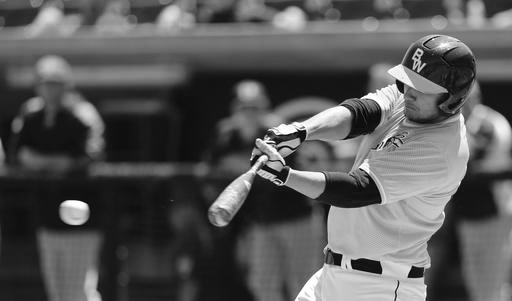 Tony Blankenship, Jacket Sports Editor
April 2, 2015
Baseball
The 15th-nationally ranked Baldwin Wallace University baseball team split an Ohio Athletic Conference doubleheader with No. 22 Marietta College at heritage Field.
BW (10-4, 1-3 OAC) dropped the opening game, 11-1, to the Pioneers (11-7, 2-2 OAC).   The Yellow Jackets came back and won the nightcap by a score of 9-5.
In the opening game, BW scored one run on five hits and was led by senior left fielder Zach Ferster (Olmsted Falls), senior shortstop Eric Murphy (Brook Park/Midpark) sophomore second baseman Cole Nieto (Brunswick /St. Ignatius) and freshman catcher Trent Kaltenbach (Plain City /Kettering Alter) all with one hit apiece.
In game two, BW scored nine runs 10 hits and were led by the home runs from senior All-OAC first baseman/right fielder Kyle Chontos (Pickerington/North) and freshman third basemanSpencer Badia (Bellaire).  Chontos went three for four with his first homer of the season, two runs scored and one run batted-in (RBI).   Badia was one for three with his first career homer and three RBIs.
Women's Golf
Junior All-Ohio Athletic Conference player Laura Vidmar (Willoughby/South) fired a career-best round of 79 and was the Medalist as the Baldwin Wallace University women's golf team finished sixth at the Ohio Northern University Spring Equinox Women's Classic at the Colonial Golfers Club.
The two-day tournament was shortened to just one day due to due to adverse course conditions.
BW shot a team score of 385 on the par 72 and 6,173-yard Colonia Golfer Club layout.  NCAA Division II Ursuline College captured the title with a score of 335.  Otterbein University was second with 355 while Capital and Ohio Northern tied for third with 372.  NCAA Division II Lourdes was fifth with 383 while Anderson (Ind.) and Heidelberg finished seventh and eight with scores of 402 and 431, respectively.
Women's Tennis
The Baldwin Wallace University women's tennis team won its second straight match as it defeated Ohio Athletic Conference rival Marietta College, 6-3, in an OAC match at the Beren Tennis Center.
BW (3-9, 2-0 OAC) won two of three doubles matches versius Marietta (1-7, 0-1 OAC) and led, 2-1, after doubles action. The No.2 duo of  sophomore Claire Watts (Medina) and junior Mackenzi Baker (Vermilion/ Elyria Catholic) won, 8-5,  to improve to 5-9 this season and 2-0 against OAC opponents. The No.3 tandem of junior Hayley Peterson (Tulsa, Okla.) and freshman Shannon Finkenthal (Beachwood) won, 8-3, and are 4-10 overall and 2-0 versus OAC foes.
Softball
Freshman shortstop Sierra Bennett (Tallmadge) had a doubleheader-high tying five hits, including a career-best three in the first game, as the Baldwin Wallace University softball team swept a non-conference series against Geneva (Pa.) College on the Cuyahoga County Fairgrounds Field.
Bennett had a 3-for-3 performance in the opening game and followed it with a 2-for-4 game in the nightcap.
BW (7-9), who snapped a two-game losing skid, beat Geneva (10-10) in the first game by a score of 5-1 and followed it up with a six inning 9-1 victory in game two.
In the circle, sophomore Samantha Dostall (Oberlin/ Firelands) picked up her fourth win of the season as she pitched seven innings and allowed one run on six hits with two strikeouts.
In the circle, Erica Morgan picked up her third win this season. She pitched six innings and allowed one run on six hits with five strikeouts and no walks.
Men's Lacrosse
Sophomore midfielder  Andrew Spicher (Erie, Pa./ McDowell) scored four goals as the Baldwin Wallace University men's lacrosse team defeated  Alfred State (N.Y.) University, 22-1, at Pioneer Stadium.
Sports Information


Sophomore Midfielder Andrew Spicher scored four goals as the BW Lacrosse team continued its best start in school history.
In addition to Spicher for BW (6-0), sophomore midfielder Joey Briski (Pittsburgh, Pa./ Pine-Richland) and sophomore attacker James Wilhelm (Bay Village / St. Ignatius) each scored three goals. Overall, 13 Yellow Jackets had at least one goal.
In goal for the Yellow Jackets, sophomore Mike Dizonno (Buffalo Grove, Ill./ Adlai Stevenson) allowed just one goal and faced six Pioneer shots with five saves.
Track and Field
Baldwin Wallace University junior Division III All-American thrower Kim Gallavan (Auburn Township/ Kenston) has been named as the Ohio Athletic Conference Women's Field Athlete of the Week.
Gallavan, who is the defending OAC Outdoor Field Athlete of the Year, earned her third career outdoor field athlete of the week honor after placing in the top-10 in three events at University of North Carolina Charlotte 49er Classic last weekend.   She competed against a field mainly comprised of NCAA Division I student-athletes.  This was the second straight season that Gallavan has won the OAC weekly honor after the 49er Classic.
Basketball
Baldwin Wallace University senior basketball standout Justin Roth (Parma) was named to the 2014-2015 NABC (National Association of Basketball Coaches) Division III All-Great Lakes Region second-team.
Roth, who also was tabbed as a third-team All-Great Lakes Region selection by the D3hooops.com web site and earned first-team All-Ohio Athletic Conference honors, led BW to an 18-9 record. He led the OAC in scoring at 18.5 points-per-game, grabbed 3.7 rebounds-per-game and had a team-high 88 three-pointers to go with 64 asssists and 32 steals. He had a career-high 26 points against OAC and Cleveland cross-town rival John Carroll University on January 21, 2015. Roth earned OAC Men's Basketball Player of the Week honors on Nov. 24, 2014 and was the Al Sirat Grotto Player of the Game versus Wilmington College on Feb. 14, 2015. In just two-plus seasons, Roth scored 606 points, grabbed 120 rebounds and had 101 three-pointers. Roth transferred to BW from NCAA Division II Lake Erie College.