Jacket Nation: Team Updates Around Campus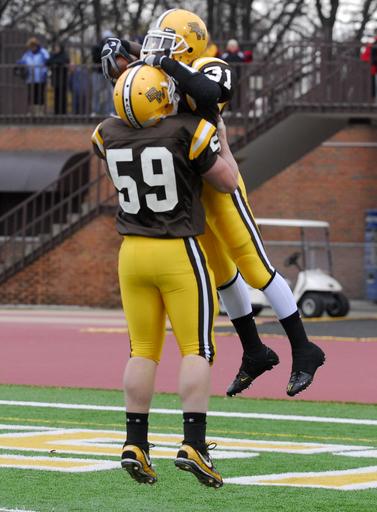 Tony Blankenship, Jacket Sports Editor
December 12, 2014
Football
Five Baldwin Wallace University football student-athletes, senior defensive end Luke Riemenschneider (Rocky River), senior linebacker Dan O'Brien (Warren/ Howland), senior wide receiver/return specialist Kyle Dunne (Rocky River), senior offensive tackle Sean Hemlick (Uniontown/ Lake) and senior cornerback Nelson Candelario (Cape Coral, Fla./ Island Coast), were named to the 2014 All-Ohio Athletic Conference football team.
Riemenschneider was a first-team selection, O'Brien and Dunne made the second-team and Hemlick and Candelario were honorable mention selections.
Riemenschneider, a 2014 team captain,  advanced from being a second-team pick a year ago to the first team this season. The three-time OAC Defensive Player of the Week was third on the team and first among linemen with 61 tackles.
O'Brien made the All-OAC second-team for the second straight year. He is a two-time All-OAC, two-time Academic All-OAC and two-time CAPITAL ONE Academic All-District 7 student who is currently listed on the CAPITAL ONE Academic All-America national ballot.
Dunne had his best season as a collegiate athlete. He led the team with 44 catches for 591 yards and seven touchdowns. He completed his only pass for a 65-yard TD, led the OAC in punt returns with a 16.9-yard average in 17 attempts and returned a kickoff 24 yards.
Dunne ended his career with 51 catches for 692 yards and eight TD's.
Hemlick was a force on the BW offensive line for four years. The three-year starter was a key member who helped BW to average 27.7 points and 370 yards of offense per game during his career.
Candelario was a member of the Yellow Jacket secondary for three seasons. The two-year starter had a career-high 36 tackles, including 1.5 for loss this season. He also had a forced fumble and one recovered fumble.
Men's Basketball
Baldwin Wallace University men's basketball senior guard Justin Roth (Parma) has been named as the Ohio Athletic Conference Men's Basketball Player-of-the-Week for his efforts in a pair of non-conference games last week.
Roth, who garners his first career weekly honor, scored 37 points, grabbed seven rebounds and passed for six assists in a road contest against Case Western Reserve University and a home opener win against Washington & Jefferson (Pa.) College last week.
He scored 13 points, grabbed six rebounds and passed for three assists against Case Western Reserve.   Roth closed out the week as he scored a career-high 24 points, grabbed one rebound and dished out three assists.
Women's Basketball
The Baldwin Wallace University women's basketball team cruised to a 74-38 non-conference victory against Waynesburg (Pa.) University in the Rudolph Ursprung Gymnasium inside the Lou Higgins Center.
BW (3-1) had three players score in double figures led by junior forward Alissa Munro (Mansfield/Lexington) with a game-high 14 points.
Sophomore point guard Mackenzie Colombo (Strasburg) tallied a career-high tying 11 points and dished out a game-high three assists.
Senior All-Ohio Athletic Conference and Academic All-OAC guard Audrey Smolik (Strongsville) recorded her third career double-double with 10 points and a game-high 10 rebounds. Waynesburg (2-2) was led by Addy Knetzer with 12 points.
In the first half, BW opened the game on a 9-0 run when Clara Lemmon (Louisville) scored on a layup at the 17:31 mark. Waynesburg scored its first basket on a jumper by Rebecca Kerr. BW would hold Waynesburg to just nine points in the first half and led 35-9 at the intermission.
In the second half, Waynesburg outscored BW 7-5 in the opening minutes to cut the lead down to 43-16 on a three-pointer by Lauren Blair at 16:37. BW increased the lead to as many as 41 points on two occasions with the last coming at 70-29 on a jumper by freshman center Megan Schubert (Ayersville) at the 6:33 mark.
Men's Wrestling
The Baldwin Wallace University wrestling team competed at the annual Simonson Invitational hosted by Ashland University on Saturday, November 22.
BW was led by freshman 197-pounder Connor Rigsby (Painesville/ Riverside) with a 4-2 record and a sixth place finish at a tournament that consisted mostly of NCAA Division I and II teams.
Rigsby won his opening match with a 10-2 major decision over Gabe Stiver of Mount St. Joseph University before losing 6-5 to Ryan Morris of Division II Gannon (Pa.) University.
In the consolation bracket, Rigsby won 5-4 versus Gordon Tuesdale of Division I Edinboro (Pa.) University, won by injury default and then pinned Gannon's Nigel Toussaint in 4:38 before losing 4-3 to Jamar Henry of Mercyhurst NE in the match for fifth/sixth place.
In addition to Rigsby, freshman 125-pounder Sean Kuklisin (Streetsboro), sophomore Patt McGinnis (Egg Harbor City, N.J./ Cedar Creek), sophomore 157-pounder Seamus Bermingham (Orchard Park, N.Y.), freshman 165-pounder Keagan Pearsall (Moretown, Vt./ Hardwood Union), freshman 174-pounder James Ritchie (Carlisle) and sophomore 184-pounder Paul Rallis (Ringoes, N.J./ Hunterdon Central) each won one match.
Women's Swimming
Baldwin Wallace University junior All-Ohio Athletic Conference and Academic All-OAC women's swimmer Chandler Ashbaugh (Napoleon) has been selected as the OAC Female Swimmer-of-the-Week.