Future of Kohler Hall Questioned On Campus
Kayse Schmucker, Contributing Writer
April 17, 2014
For most of this academic year, campus has been buzzing with rumors of the possible tear down of Kohler Hall. Questions have been raised regarding its long-term structural integrity and the cost efficiency of its upkeep as a residence hall.
"While there are multiple options out there, no decision on any future project has been made by the [Board of Trustees] yet," Lisa Starek, the Administrative Assistant for Buildings and Grounds, said. "If this were to be a project, there would be a new building put in its place."
Kohler Hall has also been the long-time subject of rumors of another kind on campus, earning itself a reputation full of conjecture and urban legend. Named after the former mayor of Cleveland, Frederick Kohler, the building is said to have been everything from a Civil War hospital to a mental institution. Its ghost stories have placed the building on lists of haunted must-see locations in Ohio, including mention in the popular book Haunted Ohio.
Even if its popular myths and ghost stories may not be true, Kohler does have a rich past grounded in important events in both the city's and America's history. Though the exact year of its construction is unknown, Kohler was likely built some time before the 1870s, making it the oldest building to be a part of the Baldwin Wallace University campus.
For a short time after its construction, the building served as the German Methodists Orphans Asylum. Renovations to the building done in the 1910s gave the hall its current L-shape with an addition that nearly doubled Kohler's size before it was sold to then Baldwin-Wallace College in 1913. During World War I, Kohler served as a barracks for the Student Army Training Corps. In World War II, the residence hall was used as a barracks for members of the V-12 Navy College Training Program, an organization providing future officers of the Navy and Marine Corps with college education, solidifying Kohler's place among the most historically rich of BW's buildings.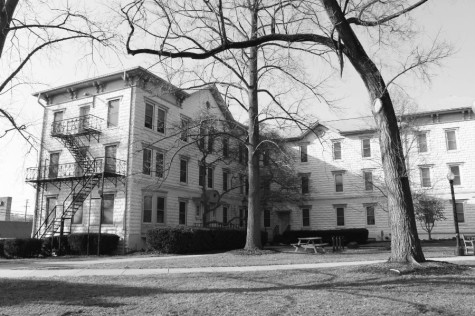 Jeremy Feador, BW's Archivist and University Historian, gave additional insight into Kohler's part in the history of the school.
"Well, obviously I love historical buildings," Feador said when asked about Kohler's historical value. "What's neat, I think, is that this is a building John Baldwin would have laid eyes on." In addition, Feador addressed some of the more unusual stories about the building, stating that the rumors about the building being a mental institution and a Civil War hospital are "almost certainly untrue."
The deliberation on the future of Kohler will take place at the board meeting on May 2nd.
"With regards to Kohler's immediate future, it will be available for residents to select for housing for the 2014-2015 year during our Room Draw process on April 6th," Daniel Cline, the Campus Area Coordinator, said. Kohler Hall has capacity to house approximately 95 students and is the residence hall of choice for many Conservatory students.
For photos and additional information on the history behind Kohler and other buildings on campus, visit the BW University Archives website and subscribe to the Facebook page.