Freshman Melissa Metz Looks to Build on Success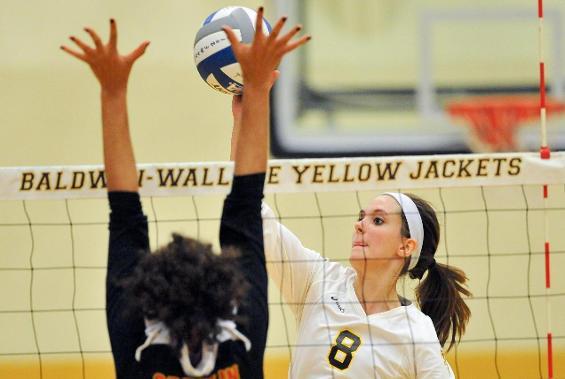 Tony Blankenship, Jacket Sports Editor
November 9, 2014
The Baldwin Wallace women's volleyball team is currently in the midst of a playoff push and that is due in part to the play of their freshmen, led by outside hitter Melissa Metz.
Currently sitting at 15-10 (3-2 OAC), the team is only a game off the pace for the division lead, coming off a dominating performance against Wilmington where Metz led the defense with a career and game high twenty-five digs.
The freshman neuroscience and chemistry double major has played a significant part in the teams success this year as she is currently one of the team leaders in digs with 399 and is also up there in kills with 101.  The success is not a surprise, however, as she was a four-time varsity letter winner for her high school, Our Lady of the Elms.
Even through high school, though, she did not expect the kind of success she is currently having.  "I never expected to play college volleyball," she said. "In high school it was more of a club sport for fun and now it's competitive and a lot more intense."
The humility that she possesses also translates to performance on the court.
She says of the team's closeness, "My teammates are my family. We play for each other."
Their strong comradery and genuine closeness shows in the improvement that the team has made thus far, already improving from their record of 11-18 of last year.
As long as the team continues to be the family that they already are, they should not only continue the success that they have already had, but also build on it and become a powerful force in the Ohio Athletic conference.
They will continue a program with a storied tradition that has had 21 First-Team All-OAC selections and an appearance in the NCAA Division III National Tournament.
If the team can continue to stick to their game plan and try their best, which Metz says has been the key to their success, the team might not only be looking at the playoffs this year, but continued success down the road for the next four years. Eleven of the teams sixteen players are freshmen and sophomores; seven of them are freshmen.
In addition to being an integral part of the varsity volleyball team, Metz also is aspiring to be an optometrist.
The BW women's volleyball team currently has three games left before the OAC tournament starting with this Saturday at Otterbein, followed by a home game October 28 against Ohio Northern and concluding with senior parent's night on November 1 against Capital.
If they can win those last three games they will be in a prime position to get that number one seed once the OAC tournament starts and will have a lot of momentum on their side as well.
The experience that Metz and the rest of the freshmen are getting playing in important games this late in the year and building towards a tournament push is invaluable and will only set up the women's volleyball team for years to come.