In just one year, Anthony Kendall went from being a star cornerback for the Baldwin Wallace Yellow Jackets and an All-American to claiming a place on the Tennessee Titans practice squad and eventually making it to the final roster.  
Kendall said that he had always dreamed of playing in the NFL since he was six years old. During his visit to BW, Kendall asked if it was possible to make it to the NFL playing at a Division III school, and he heard no positive responses. However, this did not stop Kendall from pursuing his dream of playing in the NFL.  
"I just could not see myself doing anything else other than football," Kendall said. "That mindset pushed me forward, and no matter what team I was playing for or what I was doing, I always had that in me." 
Jim Hilvert, coach of the BW Yellow Jackets football team, said that he knew from the time that Kendall visited the campus that he would have an outsized impact on BW. 
Story continues below advertisement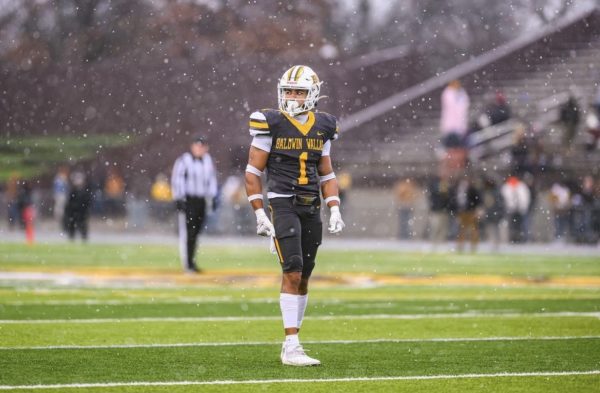 "[Kendall] was a guy that was definitely going to be a difference maker for us and did a really good job," Hilvert said. "He really loves the game of football and obviously has a really good opportunity in front of him in the Tennessee Titans."  
Kendall said that Hilvert and his BW team played a large role in helping him achieve success in his football career.  
"My time at BW helped me reach this level of achievement by preparing me for obstacles I was going to face [because of] coach Hilvert's coaching style to defensively swarm to the ball, the determination and grit, and overall, our studying of film and preparation for games," Kendall said.  
Still, Kendall never received a single offer from a Football Subdivision school and went undrafted, but he did not go unnoticed. The Titans saw his potential on the field and decided to give him a shot on the preseason squad. There, he had four tackles in the preseason, and the Titans were impressed with the 5'10" superstar. 
Coach Hilvert juggled through many different highlights, recounting Kendall's success alongside his fellow Yellow Jackets.  
"First of all, during his freshman year in one game against Capital, he stood out. You could tell from that game he would be a special player," Hilvert said. "And then there were games like Alma on the road where he had an interception on a post, cut in front and made a great return."  
But out of all the accomplishments that Kendall had here in Berea, Hilvert said that his senior year really stood out to him.  
"There was game after game where he played really, really well," Hilvert said. "There was one game against Otterbein, the big hit against Capital on a sack. I mean, game in and game out, he was really consistent. I think in his game against Mount Union, he played really well. He just played really well against a great player like Wayne Ruby."  
In the game against the Purple Raiders, Kendall picked off star quarterback Braxton Plunk, just one of the six interceptions thrown by the All-American.  
He made an appearance at George Finnie Stadium during their first game against Mount St. Joseph on Sept. 2 and said that he plans to return to watch future games.  
"It was a good time, and I was able to see the players and coaches," Kendall said.  
Kendall will be playing as #40 on the Tennessee Titans, switching from his #1 jersey throughout his time at BW.  
Does the road to the Pro Football Hall of Fame begin in Berea? For Anthony Kendall, it may.