The Opening Reception for the Jessica Pinsky "Afterscape" exhibition took place on Friday, Nov. 15 from 5-8 p.m. at the Fawick Art Gallery located in Kleist Center for Art & Drama.
The Fawick Gallery holds six exhibitions each year, and Pinsky's exhibit is the final installation of the fall term. The gallery showcases a variety of exhibitions that spotlight the work of different Ohio artists.
In 2006, Pinsky received her Bachelor of Fine Arts in Studio Art from New York University  and later received her Masters of Fine Arts from Boston University in 2009. She is currently the Technical Specialist for CIA's Fiber and Material Studies Department.
Pinsky creates sewn paintings that utilize color, line and texture to create a visually strong and striking work. In her artist statement, Pinsky explains her work and her core inspiration.
"I extract details from my life to accentuate in my artwork. Each material and image chosen relates to my life and experience in some way. Reality is my base from which to invent, abstract and exploit," Pinsky said.
Pinsky explains the importance of her medium in terms of the artistic process.
"My process combines painting and sewing as each have an important place in my history. The contrast of these two methods of art-making highlight the other's strengths and reveal characteristics otherwise hidden. Together they mimic my idea of the perfect relationship and the relationships of my family that have taught them to me."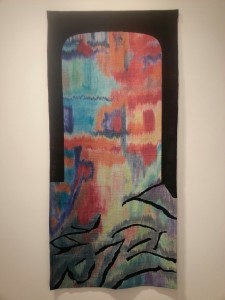 Pinsky also describes how her passions have developed through the years.
"My first creative passion was sewing. As a small child, I sat crouched under my mother's sewing machine table, pressing and controlling the pedal as she worked, watching the scraps of fabric and thread fall to the ground. At age twelve, I began lessons in painting, Painting
was for the outdoors, for the classroom, for a profession, for a career. Fabric and textile was for the dark hours of the night, for every moment of free time, for balance."
Pinsky's bold and  dramatic energy can be seen in her fabrics and paintings, and are a constant in her works.
"The marks and brush strokes are dramatic, exaggerated and are the starting point for the invention of new reality in my work," Pinsky said.
Pinsky also explains that her inspiration for painting came from her grandmothers and the personal narrative behind her work.
" I felt I could preserve their lives in the presence of the paintings. I aggressively detailed the contours o
f their skin and even magnified the texture to emphasize the accumulation of time. The treatment of their skin has been applied to every subject since then and acts now as a hidden, personal narrative in my work."
Some of the different materials that can be seen in Pinsky's "Afterscape" exhibit are dye paint on silk, acid dye on
Story continues below advertisement
wool, assorted fabric, pearl cotton and dye, spray paint, linen remnants and thread.
A few of Pinky's recent works that are featured in the exhibit are The Fairy of Eagle Nebula, In the Heart of Tarantula, When Small Starts Explode, Changed Winds, and In Memoriam: "of every person I have ever know, that I can remember, without looking on Facebook or asking my Mother."
Pinsky's current works explore the combination of textile and painting.
"I continue to merge these techniques to create new works of art that compel imagination and invention in myself and the viewer." Pinsky said.
"As time goes on, these two processes feel less separate, their continuation more reflective of the impulse I have to create using both."
The exhibit runs through December 6 and is open during the regular gallery hours of Monday – Friday 2-5 p.m.