EQLS Speaker Makes Music, Talks Tech in Gamble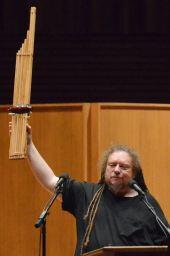 Alyssa Nieset, Contributing Writer
November 9, 2014
Baldwin Wallace University's second speaker for the Enduring Questions Lecture Series was one of Time Magazine's 100 most  influential people in 2010, Jaron Lanier. Lanier vistied BW's campus in late October to share his story with BW students in Gamble Auditorium.
Lanier has a long, broad list of accomplishments and awards, perhaps the most interesting being that he helped get the internet started back in the 1980s. Lanier is a notable designer, inventor, entrepreneur, composer, musician, and visual artist.
Lanier's presentation was expansive. He spoke of the history of early computing, Marxism and how the invention of the internet has affected our society in addition to  giving an introductory lesson on economics and discussing his numerous accomplishments.  Lanier's main point, however,  was that his views on the internet have changed since he helped create it.
"I've turned against those ideals…we were all kind of entitled little jerks," Lanier said of his time spent helping to create the internet.
Lanier opened his presentation by playing on a khene, a traditional instrument from Laos. The khene is a bamboo mouth organ.
"This instrument goes back thousands of years." Lanier said.
Lanier went on to explain how the khene is related to computers in that it has several similar pieces in fixed positions that are either on or off. The khene that he played also had sixteen tubes, which would be sixteen bits in computer architecture.
"Aside from the fact that it's a great instrument to take with you or carry on while traveling, you can sort of make a lot of noise with one little thing. It's also, arguably, the origin point of computer science." Lanier said.
Lanier explained how the khene inspired many different types of pianos, which inspired the programmable loom. The loom then inspired a man to create a universal calculator, which in turn inspired a new generation of scientists to create modern computing.
"I don't think I've ever been able to make a device as expressive as this," Lanier said.
Lanier talked about how computer science has evolved over the years, and how it has affected our culture.
Lanier explained that today there are giant computers that are designed to watch and follow what we do online in order to provide information on what we like. This is how the ads are tailored specifically to you on Facebook and other websites.
On his accomplishments, Lanier mentioned that he sold his startup to Google, and along with helping to get the Internet started in various ways, he also helped to create the virtual reality field.
Lanier also said that he doesn't want to be involved anymore with telling people what is right and what is wrong in regards to the Internet.
"Right now, I don't want to get involved with the Internet, I want the younger generations to get involved," Lanier said.
Lanier ended his presentation by playing a few other instruments that he had brought with him. The first was a pair of double flutes he had acquired while traveling in Hungary and the second was a traditional Japanese flute.
The next EQLS event will be held in the John Patrick Theatre in the Kleist Center for Art & Drama on Jan. 22.