Charity Basketball Event Benefits Community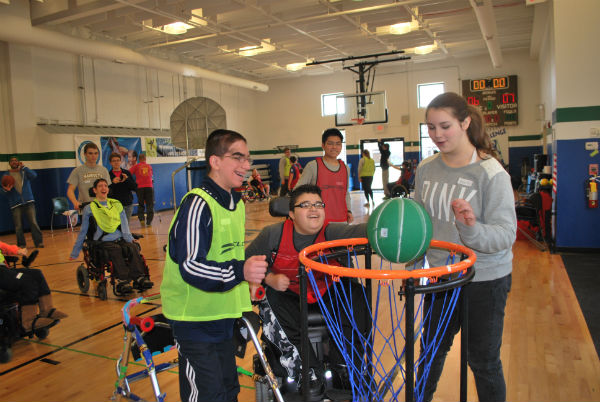 Adapted basketball provides a sense of inclusion and integration that no other sport can rival.
Baldwin Wallace University hosted "Nothin' But Net! Hoopin' It Up For Disability Awareness" on Wednesday, April 24. The event brought together AMP 1, Youth Challenge, The Achievement Center for Children, the School of Dancing Wheels, Baldwin Wallace University, and Leimkuehler Inc. and Freedom Innovations.
After an extremely appreciative welcome from Chris Garr, Director of Program Services of Youth Challenge, the event was underway in BW's Ursprung Gymnasium.
The game consisted of the graduating senior varsity basketball players of Baldwin Wallace playing alongside Eric Knotts, a double-amputee and active participant at the Achievement Center for Children.
Prior to taking the court and playing stand-up basketball on two prosthetic legs, Knotts tackled feelings of nervousness and anxiety. He simply said, "I'm a little nervous, but this is going to be a lot of fun."
The BW All-Star team played against the members of the AMP 1 basketball team, a team consisting of stand-up amputee players.
AMP 1, led by Roderick Greene of Oklahoma City, Oklahoma and Richard Ramsay of Portland, Oregon, stole the show, connecting on long-range three-pointers and strong post play.
"The desire to be the best motivates me. In every aspect of life I strive to be the best I can be in sports and life in general," said Greene.
Ramsay's play was inspired by all of the spectators that were looking up to him.
He said, "It's big. It's big for the children that fight with similar struggles and it's also big for the parents."
Representing the Yellow Jackets in between quarters was a team consisting of members of BW staff and Greek Life playing wheel chair basketball against the members of the Achievement Center for Children's Junior Wheelchair Cavaliers Basketball Team, recently back from competing at the World Championships.
During halftime, Youth Challenge participants competed in an adapted form of basketball in which participants worked together to make baskets in one of two lowered hoops at each end of the court.
Garr provided commentary giving participants the feel of a professional atmosphere.
Garr said, "The beauty of this event is that everyone was able to play the game of basketball. Anyone with a body can be an athlete. Sometimes you just have to get creative."
At the end of the night it was BW that walked away with the 83-71 victory, but the lessons learned in Ursprung Gymnasium were so much more important.
Senior BW guard Ben Umbel learned to not take anything for granted.
He said, "We complain about bumps and bruises throughout the season and these guys overcome some serious obstacles. It really puts things in perspective."
BW professor Marianne Mangan and senior BW student Megan Frisina played crucial roles in the execution of this event, planning and preparing for months in advance.
Mangan said, "The gathering at the AMP 1 game was a wonderful example of collaboration with many people."
She continued to say, "We are truly blessed to have the people here at Baldwin Wallace that not only allowed such an event to occur, but thoroughly enjoyed the experience."
More than $1,600 was raised to benefit Youth Challenge.
Leave a Comment
Please consider a financial contribution to the student journalists of Baldwin Wallace University. Your contribution will allow us to purchase equipment, cover our annual website hosting costs, and other expenses so that we can best serve the BW and Berea, OH communities. The Exponent does not operate for profit – all donations will be put directly back into the paper so that we can continue to produce the highest quality journalism possible.
- Justin McMullen, Executive Editor