BW Presents "It's a Small World" Culture Night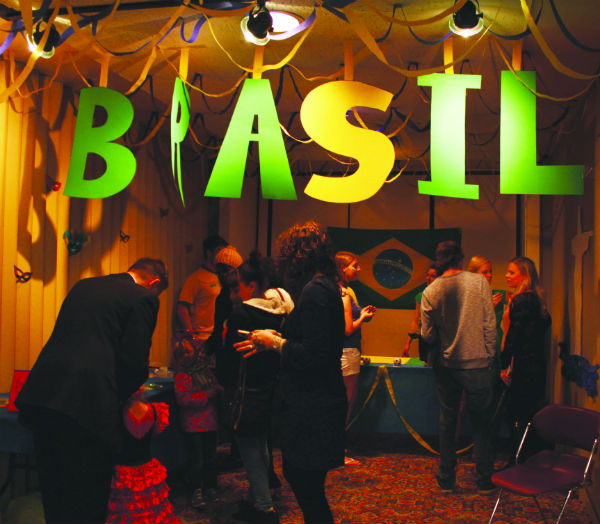 Scott Burgess, Contributing Writer
April 17, 2014
International Student Services put on their spring cultural education event, It's a Small World, March 28 in the Strosacker Ballroom.
The event featured a "Travel the World" theme where guests could "travel" to different cultural stations and learn about that specific culture. Cultures represented at the event were Africa, Brazil, China, England, India, Italy, Mexico, the Middle East and South Korea.
The event also featured free snacks and desserts, providng a small taste of the cultures that were represented. Most culture stations had recipe cards that could be collected and added to a key chain that each guest received upon arrival at the event. The front of the recipe cards contained the ingredients and preparation instructions, while the back displayed information about studying abroad to learn more about each culture.
International Students were present at each culture station to answer questions and help the attendees with the games and activities at the various stations.
At the African culture station, attendees could learn their Ghanaian name. Tribal masks were also on display and the recipe card available was for Kelewele, a spicy fried plantain.
At the Brazilian station, packets were available that contained all the materials needed to make a carnival mask. The recipe was for Brazilian Brigaderio, a chocolate dessert.
The China station had many games that could be played. The station also featured students from Cleveland State University's Confucian Institute. One of the CSU students was in a panda costume and took photos with the guests. The recipe found at this station was for Sesame Ginger Chicken.
England featured an activity that informed the participants of the different meanings that certain words have in England compared to America. The recipe here was for Toad-in-the-Hole, a British variation of Pigs in a Blanket.
The Indian table had a henna station and name cards so guests could see their names written in Hindu. The Indian recipe featured was Gobi Aloo.
Mexico's station was Day of the Dead themed. Here guests could learn the differences between Day of the Dead and Halloween. The key difference is that Day of the Dead is a celebration of family. The recipe that could be obtained was for Mexican Hot Chocolate, which was also available at the beverage bar for guests to taste.
The Middle Eastern station feature the opportunity to put on either a Hijab or a Kufiyah and get a picture taken. At this station was a recipe for Moroccan Tea, which contains Chinese tea, mint, sugar and water.
At the South Korean culture station, there was the opportunity to play a traditional Korean game. Throughout the night, Korean dancers performed to K-Pop. The recipe available from the South Korean culture was for Tangerine Punch.
"I never realized how much cultural diversity we have here on campus," Bruce Stacey II, a Junior and Broadcasting/Mass Communications Major, said. This thought was echoed by many of the guests in attendance at It's a Small World.