BW Loses Heartbreaker to Ohio Northern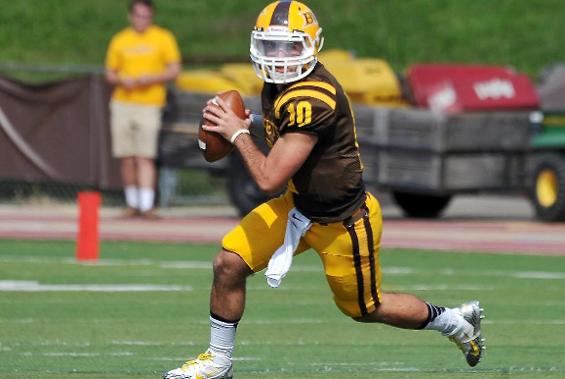 Tony Blankenship, Jacket Sports Editor
September 25, 2014
The Baldwin Wallace University football team dropped a heartbreaking Ohio Athletic Conference game to Ohio Northern University by a final score of 37-35 in the 37th Annual Lee Tressel Shrine Classic on Tressel Field at The George Finnie Stadium.
Polar Bear (2-0, 1-0 OAC) senior quarterback Patrick Angle threw a 10-yard touchdown pass to junior wide receiver Devon Price with nine seconds remaining to give Ohio Northern the victory.
BW (1-1, 0-1 OAC) junior quarterback Tyler Moeglin (Canton/St. Thomas Aquinas), who completed 15 of 21 passes for 176 yards with two TDs and ran for a team-high-tying 87 yards on 14 attempts with two TDs, was named the Yellow Jacket Shrine Player of the Game.
Angle, who ccompleted 27 of 46 passes for 269 yards with four touchdowns and ran for a game-high 115 yards on 16 attempts with a TD, was named the the  Polar Bear Shrine Player of the Game.
BW led 14-0 after one period, 28-14 at halftime and 28-17 after three periods. Ohio Northern outgained the Yellow Jackets, 454-437, including a 269-221 advantage in passing yards.
In addition to Moeglin offensively for BW, junior running back Issac Reed III (Lehigh Acres, Fla./Lehigh) also had 87 yards in 20 attempts with a TD. The receiving corps were led by senior WR Michael Slack (Casselberry, Fla./Pine Castle Christian) with six catches for 105 yards and a TD.
The defense was led by senior All-OAC and Academic All-OAC outside linebacker Danny O'Brien (Warren/Howland) and junior middle linebacker Tyler Burdorff (Painesville/Riverside) with eight tackles each.
The Polar Bears grabbed their first lead of the game at 31-28 when Angle threw a 25-yard TD pass into a stiff wind to sophomore WR Reed Allen and DiMario made his fourth PAT boot of the contest. The scoring play capped a seven-play and 80-yard drive.
With the win, the Polar Bears cut BW's all-time series advantage to 27-12-1.
Next Saturday, September 27, BW returns to action when it travels to University Heights to play OAC and Cleveland cross-town rival John Carroll University in the Annual Battle for the Cuyahoga Gold Bowl Trophy on Wasmer Field at Don Shula Stadium at 7:00 p.m.