BW Coach Snell Aims to Build Football Family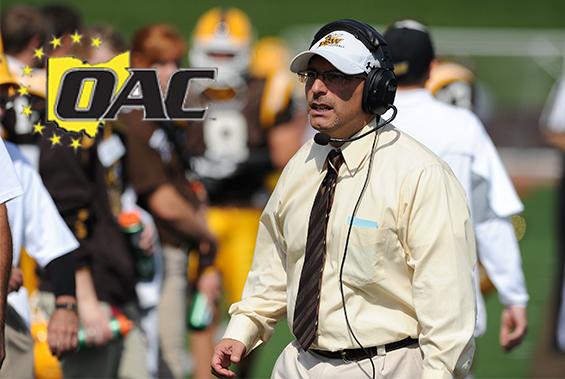 Tony Blankenship, Jacket Sports Editor
October 13, 2014
To be considered the best, one has to beat the best.  To be able to beat the best, one has to be able to recruit better than the best, and that is a job Baldwin Wallace head football coach John Snell embraces daily.
Recruiting good football players to a division three university is no easy task, but it is one of the challenges that coach Snell loves to take on as he enters his thirteenth year on the job.
"If you wanna succeed, you have to love it" coach Snell said in reference to recruiting, and by loving it he means constantly attending all of the football camps that are being held all across the state of Ohio during the summer and into the start of the football year.
If you are at a camp, there is a good chance you will see coach Snell, and if he likes you, there is a better chance you will be hearing from him often.
Recruiting football players to Berea, Ohio, is more than just having a great record though.  If that were the case, he would have all of the best players lining up at his door wanting to play for the yellow jackets, as he has amassed a 77-45 record up to this year with an appearance in the playoffs.
It is more than just coming from a great coaching lineage, because he is arguably from one of the best, as there have only been three coaches at BW since 1958, with one of them being the great Lee Tressel, who is in the college football hall of fame.
It is about building a relationship, and maintaining that relationship.  Coach Snell wants to build lasting relationships with his players, and earn their trust so when they finally do step onto that football field, they are not just a football team, but a family who has each others backs.
Because BW is not allowed to give out athletic scholarships, being a division three university, that relationship and trust is what sells a lot of recruits on coming to this school.  That, along with the quality of education a person will receive at BW are the main selling points for Coach Snell as he recruits a player.
"Do you want a grade A education or a B- education?" coach Snell says.  The quality of education, combined with BW's proximity to local internships and businesses are what he thinks is the difference between BW and other universities.
When he recruits, he looks for hard working players that have a genuine love of the game of football because when that is combined with the bonds that he forms with his players, and the quality of education that a player will receive at BW, then a winning formula is created.
A winning formula that not only translates to direct success on the football field, as he has shown, but also a success for the rest of their lives after football, which is exactly what coach Snell wants.