BW Beats Capital Behind Moeglin's 5 TDs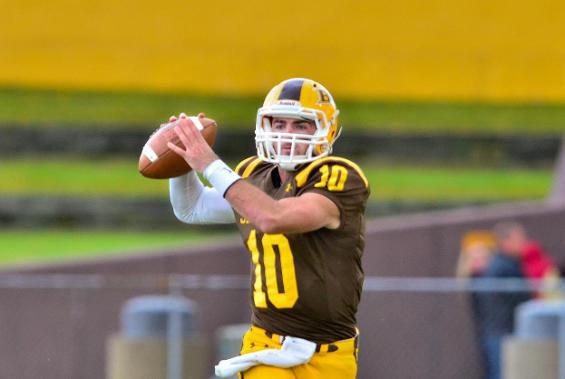 Tony Blankenship, Jacket Sports Editor
November 9, 2014
Junior quarterback Tyler Moeglin (Canton/ Louisville/ St. Thomas Aquinas) accounted for five touchdowns and scored three separate ways as the Baldwin Wallace University football team defeated Ohio Athletic Conference rival Capital University, 48-14, at Bernlohr Stadium. The win was BW's third straight versus the Crusaders and increased its all-time lead to 35-11 versus Capital.
Moeglin threw TD passes of 29 and 40 yards, scored on runs of one and nine yards and caught a 65-yard wide receiver reverse pass from senior WR Kyle Dunne (Rocky River). Moeglin completed 11 of 15 passes for 172 yards with two TD's, ran for 37 yards in eight attempts with two TD's and caught one pass for 65 yards and a TD.
BW (5-3, 4-3 OAC) led 7-0 after one quarter, 28-0 at halftime and 42-14 after three quarters. The Yellow Jackets had a season-high 570 yards of total offense and a 570-362 advantage in total offense including a 297-40 advantage through the air.
In addition to Moeglin for the BW offense, junior running back Isaac Reed III (Lehigh Acres, Fla./ Lehigh) accounted for 203 all-purpose yards as he had a career-high 197 yards in 12 attempts and caught one pass for six yards. The receiving corps was led by Dunne with five catches for 56 yards and a TD, and he threw the 65-yard option TD pass to Moeglin. The defense was led by junior middle linebacker Tyler Burdorff's (Painesville/ Riverside) 8.5 tackles.
In the first quarter, BW gained a 7-0 lead at the 8:53 mark when Moeglin took advantage of a stiff wind at his back and threw a 29-yard TD pass to Dunne.
In the second quarter, Moeglin helped BW push its lead to 14-0 at 13:40 when he bulled into the end zone from one yard away. The score capped a 12-play and 81-yard drive in 4:45 and followed a blocked Capital field goal attempt and a Crusader TD that was called back due to a holding penalty.
Senior running back Corey Padrutt (Rootstown) helped BW gain a 21-0 lead at 9:25 when he ran 32 yards to the end zone after the second interception of the season by senior safety Austin Cordova (Perry).
Moeglin gave BW a 28-0 lead at 5:13 when he handed the ball to Dunne on a wide receiver reverse and then Dunne threw a 65-yard pass back to Moeglin.
In the third quarter,  BW increased its lead to 35-0 at 12:08 when Moeglin scored on a 9-yard run and Simonis made the PAT. The score capped a 3-play and 93-yard drive that followed the second interception of the day by senior cornerback Nelson Candelario (Cape Coral, Fla./ Island Coast) and was highlighted by an 80-yard run by Reed.
In the fourth quarter, the Jackets built a 48-14 lead when sophomore backup QB Robbie Plagens (Rocky River), a transfer from Miami of Ohio, threw a 35-yard TD strike to senior tight end Darryl Jones (Cleveland/ Villa Angela-St. Joseph) and Simonis added his 33rd straight PAT this season. The scoring play capped a 5-play and 62-yard drive in 2:25.
BW returns to action Nov. 8 when BW hosts No.3-ranked the University of Mount Union for Seniors' & Parents' Day at 1:30 p.m.