Blackstone LaunchPad Idea Contest Underway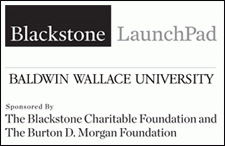 The Blackstone LaunchPad 2014 Idea Contest was created to inspire students and spread information about Blackstone LaunchPad, a charity foundation organized to maximize the intellectual and financial capital of young entrepreneurial Americans.
Undergraduate and graduate students interested in the contest should submit an entrepreneurial idea into one of three categories: business, non-profit, or improving Baldwin Wallace with either an academic program or money plan.
To be eligible, ideas should not be developed businesses or ventures already existing within the BW Blackstone LaunchPad.
A total of $2500 will be awarded throughout the Idea Contest. Two winners from each of the three categories will be awarded $200 cash prizes and will be entered for the Grand Prize of $300. Runners-up in these categories will win $100.
The contest runs in three rounds, the first starting January 15 and closes February 21.  The second round runs from February 22 to March 23, and the third portion starts on March 31.
Mike Nock, the Director of Blackstone Launchpad at Baldwin Wallace University, is excited to spearhead this contest. "I would love to create some energy around ideas and innovation," Nock said.
One piece of advice that Nock has for this competition is for students to "take a shot at it."
The simple application is easy to submit and competitors have "nothing to lose and everything to gain."
More information for this new contest can be found at both http://tackk.com/yearoftheidea and http://bw.thelaunchpad.org/.
Blackstone LaunchPad is an innovative program that allows students to create their own businesses and non-profits through the assitance of LaunchPad Director Mike Nock and fellow Venture Consultants.
This program promotes student innovation and entrepeneurship as one of six new schools that have joined the Blackstone LaunchPad national network in Northeast Ohio.
Blackstone LaunchPad services are free and available to all BW students as well as alumni. These services are co-curricular and strictly confidential.
If you wish to sign up with Blackstone LaunchPad and discuss and entrepeneurial idea, you must fill out a profile form and an idea form, followed by meetings with your Venture Consultant.
The BW Blackstone LaunchPad is located in the basement of the Strosacker Student Union, next to the Quarry Room.
Leave a Comment
Please consider a financial contribution to the student journalists of Baldwin Wallace University. Your contribution will allow us to purchase equipment, cover our annual website hosting costs, and other expenses so that we can best serve the BW and Berea, OH communities. The Exponent does not operate for profit – all donations will be put directly back into the paper so that we can continue to produce the highest quality journalism possible.
- Justin McMullen, Executive Editor