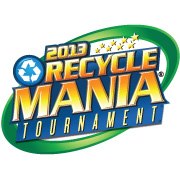 Baldwin Wallace University is in the midst of an eight-week recycling competition against over 600 other colleges across the nation known as Recycle Mania. This is the second year that BW has participated in the competition.
Recycle Mania started in January of 2001 as a competition between Miami University and Ohio University to encourage more emphasis on recycling at both colleges, playing on the rivalry already present between the two.
"BW got involved in 2011 by the Office of Residence Life, with the support of Aramark," Robin Gagnow, Director of Residence Life, said. "For the past two years, it has become a campus wide program."
Recycle Mania is meant as a springboard to rally student bodies into recycling even more for the rest of the year. The results, as noted by the Recycle Mania organization, "can have a direct impact on participating campuses."
Well over half of campuses surveyed in any given year report a noticeable increase in recycling that is attributable to the school's participation."
"The goal is not only to engage and motivate students, faculty and staff to recycle during Recycle Mania, but to [still] encourage behavior change during the year," Gagnow said.
Gagnow had a few suggestions for students looking to take a larger part in this year's Recycle Mania.
"The big thing is to recycle their plastic bottles, cans and glass containers in the hexagonal containers on campus. They can also place paper and other recyclables in these containers. At the end of the year they can recycle items with local charities and not throw them in the trash which will end in the land fill," Gagnow said.
In addition, the residents of Harding Hall have started collecting plastic bottle caps. BW's chapter of Circle K (as well as others on campus) collects pop tabs to be donated to the Ronald McDonald House for those looking to join up with a larger group.
In 2011, BW came in fourth for the college that recycled the most cans and bottles. Currently, BW ranks 106th for the grand championship but 1st in recycling bottles and cans.
The competition ends Friday, March 29. Students can continue to increase their recycling habits as the final week of Recycle Mania approaches and perhaps catapult BW closer to the first place grand championship.
Story continues below advertisement