Baldwin Wallace University held its annual Community and Family Day on Saturday, Sept. 28.
The event was an opportunity for prospective students to get a sneak peek of what it feels like to be a BW Yellow Jacket, and for families of current students to come enjoy and learn more about the campus with their student.
Festivities began at 11:30 a.m. with a campus-wide lunch starting at noon and a football game with kickoff at 2 p.m. against Muskingum University. The North Quad was full of 42 different informational booths from student organizations including Greek Life, PR Club, the Harry Potter Appreciation Club and many academic clubs. The bookstore sold merchandise on the outdoor basketball court.
Prospective students had the opportunity to learn about the admission and financial aid process, tour campus with BW's admissions tour guides, and get to know the BW and Berea community. President Helmer made an apapearance and mingled with guests.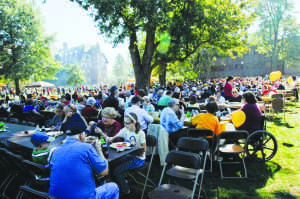 "Everyone is so welcoming. I like how President Helmer is so active in welcoming students and parents to campus," freshman Lauren Bistline said.
The formal program consisted of a speech by President Helmer, the National Anthem, a performance by the BW Marching Band and cheerleading squad, followed by musical selections performed by Music Theatre juniors Keri Renee Fuller, Kyle Jean-Baptiste and Andrew Leslie Cooper.
Other activities were also available for guests to take part in. The BW Conservatory hosted a musical instrument petting zoo and several students performed for the crowd. Guests also had the opportunity to go to the BW Observatory and look for sunspots through the telescope. There were yard games and face painting on North Quad, as well as pictures with Stinger, the BW mascot.
Community and Family Day was largely possible due to the efforts of BW's Student Ambassadors.
"Community Day is important because it gets students involved with families and gets the community involved with the university," sophomore ambassador Alanna Grafius said.
The ambassadors assist with set-up, tear-down, and mingling with guests of the event so they can answer any questions.
The ambassadors have three large events throughout the year including Community Day, Homecoming in October, and Alumni Day in early May. The student organization is also in charge of welcoming prospective students and reinforcing the connections that BW holds with its alumni.
They consider Community Day a particularly important event for fostering new relationships with students and seeing alumni who come back to BW for the event to bolster those alumni relationships.
The day ended with a 10-point football win against the Muskingum Muskies with a final score of 23-13.
Story continues below advertisement