Accelerated Nursing Program Makes Its Mark
The 2013 class of Baldwin Wallace University's Accelerated Bachelor of Nursing in Science (BSN) program set the bar high for BSN programs with a 94.7 percent pass rate on the National Council Licensure Examination for Registered Nurses.
BW's Accelerated Nursing program has set itself apart from all other BSN programs by surpassing the national rate for first-time takers of all RN programs and BSN programs.
The nursing program at BW is quickly gaining momentum and popularity for its uniqueness and is already ranked among the best BSN programs in Northeast Ohio.
The program runs 52 weeks a year and enrolls about 30 students into the program each year. BW's Accelerated Nursing Program is the only second degree BSN program in Ohio where students can obtain just under 900 hours of direct patient care experience in only 12 months.
"Those 900 hours of direct patient care experience in 12 months is how students learn nursing, succeed on the licensure exam and step into a high density position," James Fell, Director of the Accelerated Nursing Program, said.
Graduates of the first class have secured positions at some of the top hospitals in the Northeast Ohio area such as University Hospital, Metro Health, Akron's Children Hospital and Southwest General.
These graduates are working in specialized areas such as Medical Surgical Nursing, Trauma Nursing, Burn Care Nursing, Neonatal Intensive Care Nursing, Coronary Intensive Care Nursing and Psychiatric Nursing.
BW has readily taken in its second class and is already conducting interviews for the next incoming class of the Accelerated BSN program to meet the decreasing regional supply and increasing regional demand for RNs.
According to the Center for Health Affairs, Northeast Ohio is predicted to have a shortage of RNs. By 2015, the region will face a shortage of nearly 2,000 RN full-time equivalent nurses. By 2020, an additional 1,700 RNs would be needed to offset the shortage. In other words, schools in the region will need to educate between 38 percent to 108 percent more registered nurses each year over the next eight years.
"In five to six years the baby boomer cohort will be retiring. With the challenges of the aging population and people living longer, the need for patient care is driving the demand for more nurses with tertiary education," Fell said.
During the 2010-2011 school year, BW developed a proposal for the implementation of the Accelerated Nursing Program and submitted it to the Ohio Board of Nursing.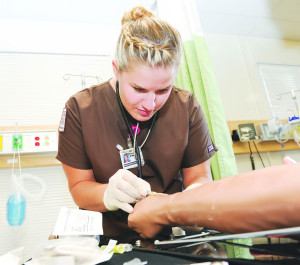 The Board of Nursing granted BW's Accelerated Nursing Program conditional approval to operate under last year's class. As a new program, BW must have operating approval as a legal entity and be regulated under the Ohio Administrative Code.
After submitting pre-survey reports, educational evaluations and self-studies, the Board of Nursing reviewed and voted BW to continue on conditional approval subject to a consent agreement for another year. As of now, BW's Accelerated Nursing Program has been applied candidacy status for accreditation.
"Accreditation is not required to run a nursing school. That is just a sign of quality and expected of us as a prestigious university," Fell said.
The Commission of Collegiate Nursing Education will review and decide on BW's Accelerated Nursing Program accreditation status in April 2014 and September 2014, and the Board of Nursing will then decide on the accreditation status.
Leave a Comment
Please consider a financial contribution to the student journalists of Baldwin Wallace University. Your contribution will allow us to purchase equipment, cover our annual website hosting costs, and other expenses so that we can best serve the BW and Berea, OH communities. The Exponent does not operate for profit – all donations will be put directly back into the paper so that we can continue to produce the highest quality journalism possible.
- Justin McMullen, Executive Editor