2014-2015 BW Men's Basketball Season Outlook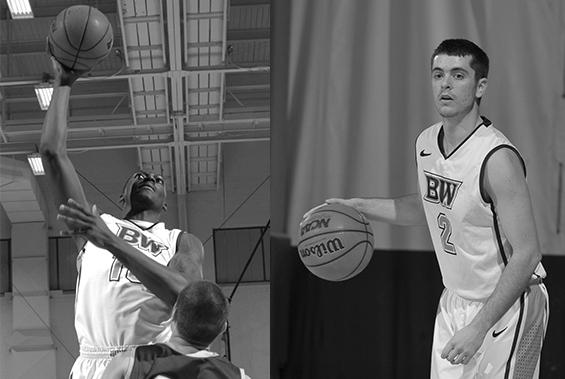 Tony Blankenship, Jacket Sports Editor
November 9, 2014
The 2014-2015 Baldwin Wallace University men's basketball team will have to rely on its quickness and athleticism if it hopes to contend for this year's Ohio Athletic Conference title.
Veteran Head Coach Duane Sheldon returns 11 lettermen and two starters from last season's team that finished 14-13, and had its third straight winning season.
Their leader will be returning first-team All-OAC point guard Jaron Crowe (Mentor), but he needs to develop an inside presence if BW is to contend.
Crowe returns after averaging 15.4 points-per-game, including 41 three-pointers, and leading the league in assists for the second straight year. He has 349 career assists and 107 triples.
The other returning starter is senior power forward Matt Dennis (Spring Hill, Fla./ Nature Coast Technical), who has continued to improve in each of his three seasons in Berea.
A year ago, he averaged a career-high 6.1 ppg., grabbed a team-leading 6.3 rebounds-per-game and blocked a team-leading 40 shots. His athleticism and ability to stay away from foul trouble is key for his success.
Returning with Crowe in the backcourt as part of Sheldon's rotation last season are sophomore Zach Brandy (Hudson) and junior Brandon Gleim (Hilliard/Davidson). Senior Justin Roth (Parma), who missed all of last season with an injury, will also be back to play.
Brandy scored 2.7 ppg. and had 20 assists. Gleim played in 19 games and had nine assists. Roth scored 10.8 ppg. two years ago and can stretch a defense with his three-point shooting.
Also look for freshman Cameron Kuhn (Vermilion) to see plenty of playing time as well as returning letterman, junior Cody Shell (Chagrin Falls/ Kenston).
At small forward, sophomore Jaelen Hollinger (Akron/ Hoban) had a solid first season in 2013-2014 when he averaged 2.4 ppg. in 24 contests. This winter, Sheldon feels his role will increase. He has the talent and ability to be a solid OAC player.
Joining Dennis on the inside will be returning upperclassmen Josh Ingle (Shelby), Zach Warner (Clyde), Ryan Walsh (Easton, Pa./ Easton Area) and Reid Crossen (Jeromesville). A year ago, all four came off the bench and lettered.
Sophomore Jake Fetherolf (Norwalk), who missed last season with an injury, and sophomore Joe Palmer (Columbia Station/Columbia) will also see plenty of action.
"We will be much quicker and more athletic," said Sheldon. "Our goal is to stretch the defense and be more up-tempo. We are looking forward to the start of the season."
BW opens its season on Saturday, November 15 when it travels to St Davids, Pa. to play Eastern University. The first home game will be Saturday, November 22 versus Washington & Jefferson College at 7 p.m. The first OAC game is at home versus the University of Mount Union on December 3 at 7:30 p.m.