BW Names New Facility After Former Coach
Baldwin Wallace University introduced the new and improved Packard Athletic Center to BW athletes and the BW community this past July.
The athletic center was named after Coach Robert D. Packard in honor of his 34 years of coaching and instructing BW football at the university.
Packard led BW to 156 victories during his 21 years at BW as a head football coach, including six Ohio Athletic Conference championships and two trips to the NCAA post-season competition.
In all, Packard was a participant of nine OAC title teams, five NCAA appearances, and the 1978 Division III National Championship according to the BW website.
As quoted on BW's website, President Robert Helmer proclaimed the legacy that Robert Packard established at BW saying, "Bob Packard touched the lives of thousands of students as he went about the work of shaping teams and molding young people. I think he would be pleased to see this facility doing the same for generations of students in the years to come."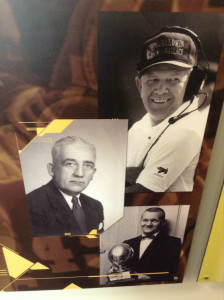 The Packard Center, a $3 million dollar project, expanded and renovated the former Bagley Hall residence hall and the pre-existent Cleveland Browns training camp.
From its deluxe main entrance and lobby, to the elaborate display areas, weight room, equipment room, team showers, and training and laundry areas on the first floor, to the grand conference rooms and coaches' offices for football and lacrosse on the second floor, the Packard Center provides a sense of community, diversity, and inclusion valuing the principles the university was originally founded on.
Specifically for football and lacrosse teams, the Packard Center is also available for all sports teams to conduct meetings and conferences and is also where half-time meetings are held during the season.
"As part of the Packard Center project, an $800,000 investment is also providing locker, shower, and training areas for women and men's soccer, track and lacrosse in George Finnie Stadium" according to the BW website.
In honor of Robert Packard, former students and players of Coach Packard have started a locker sponsorship to service future football and lacrosse athletes in the years to come.
According to the BW website, "gifts of $1,000 payable over the next two years will be recognized with a plaque on a locker."
The plaque will carry the individual's name the donor would like to acknowledge.
"The recognition is as individual as the benefactor, but the motivation is focused toward honoring Coach Packard and the impact he had, said Bill Spiker, vice president for advancement.
The Packard Center will be officially dedicated at Homecoming tomorrow, Saturday, Oct. 12.
Leave a Comment
Please consider a financial contribution to the student journalists of Baldwin Wallace University. Your contribution will allow us to purchase equipment, cover our annual website hosting costs, and other expenses so that we can best serve the BW and Berea, OH communities. The Exponent does not operate for profit – all donations will be put directly back into the paper so that we can continue to produce the highest quality journalism possible.
- Justin McMullen, Executive Editor