BW Men Earn Second Seed in OAC Tournament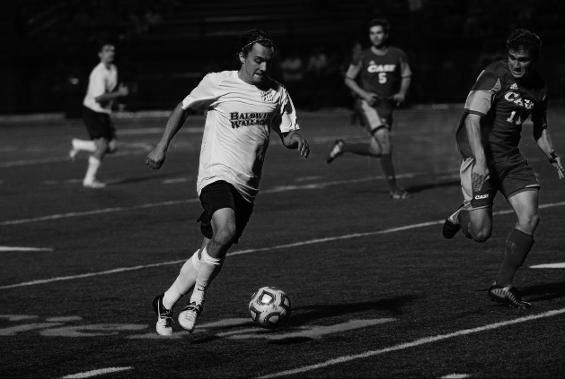 The Baldwin Wallace University men's soccer team shut out Capital University, 4-0, in the final Ohio Athletic Conference regular season game on Tressel Field inside The George Finnie Stadium on Seniors' and Parents' Night. The Yellow Jackets actually earned a pair of victories today.
Earlier in the day, and prior to playing Capital, the Yellow Jackets received a forfeit victory against Otterbein University from its Oct. 25 game due to the use of an ineligible student-athlete. The player was ineligible due to a red-card violation.
The victories versus Otterbein and Capital gave BW, 10-9-1 overall, a 6-2-1 OAC record and the number-two seed and a bye in the first round of next week's OAC Tournament.
BW will play the winner of the Marietta College versus the University of Mount Union game at Finnie Stadium on Wednesday, Nov. 5 at 7 p.m.
With its most recent loss, Capital (9-8-1, 4-4-1 OAC) will enter the OAC tournament as the fifth-seed and will play fourth-seed Ohio Northern on Monday, Nov. 3.
In the first half, BW scored three goals to   build a comfortable 3-0 lead to carry the team into halftime.
The first goal came at the 8:20 mark when senior All-OAC and Academic All-OAC defender Trey Arney (Coshocton) scored his third goal this season on a header off of a corner kick by senior Academic All-OAC midfielder Michael Brennan (Akron/ Walsh Jesuit).
The second goal came at 28:52 when junior midfielder Zach Smith (Parma/Normandy) kicked his sixth goal of the season off of a rebound from 18 yards out. Brennan recorded his second assist.
BW continued to attack the net and senior Academic All-OAC forward Cody Smith (Brunswick) put the Yellow Jackets up 3-0 at the 33:22 mark with his fifth goal this season, an impressive fast break goal towards the back post.  Brennan set up Cody Smith  for his third assist of the match, which is a career-high.
In the second half, the Yellow Jackets added their fourth goal at the 78:17 mark when junior forward Jared Abston (Strongsville) scored his second goal this season to make it 4-0.  Freshman forward Grant Nash (Columbus/ Worthington Kilbourne) was credited with his first career assist.
Overall, Capital outshot BW, 13-9, and had a 6-4 advantage in shots on goal. Capital also led the game in corner kicks, 4-3.
Despite the disadvantage in shots, shots on goal and corner kicks, the BW defense and junior goalkeeper Zach Haynes (Medina) were solid.
Haynes faced 13 shots and made six saves as he earned his first career shutout and third win this season to improve to 3-3 overall.
BW will play the winner of the Marietta and Heidelberg game, and should they win, will play in the finals of the OAC tournament on Saturday Nov. 8.
Depending on the winner of the other semifinal game, should BW advance to the finals, they could be playing at home if they are the highest seed remaining.
Students get in free to all tournament games with a valid student ID so come out and support your BW men's soccer team.